Steep Price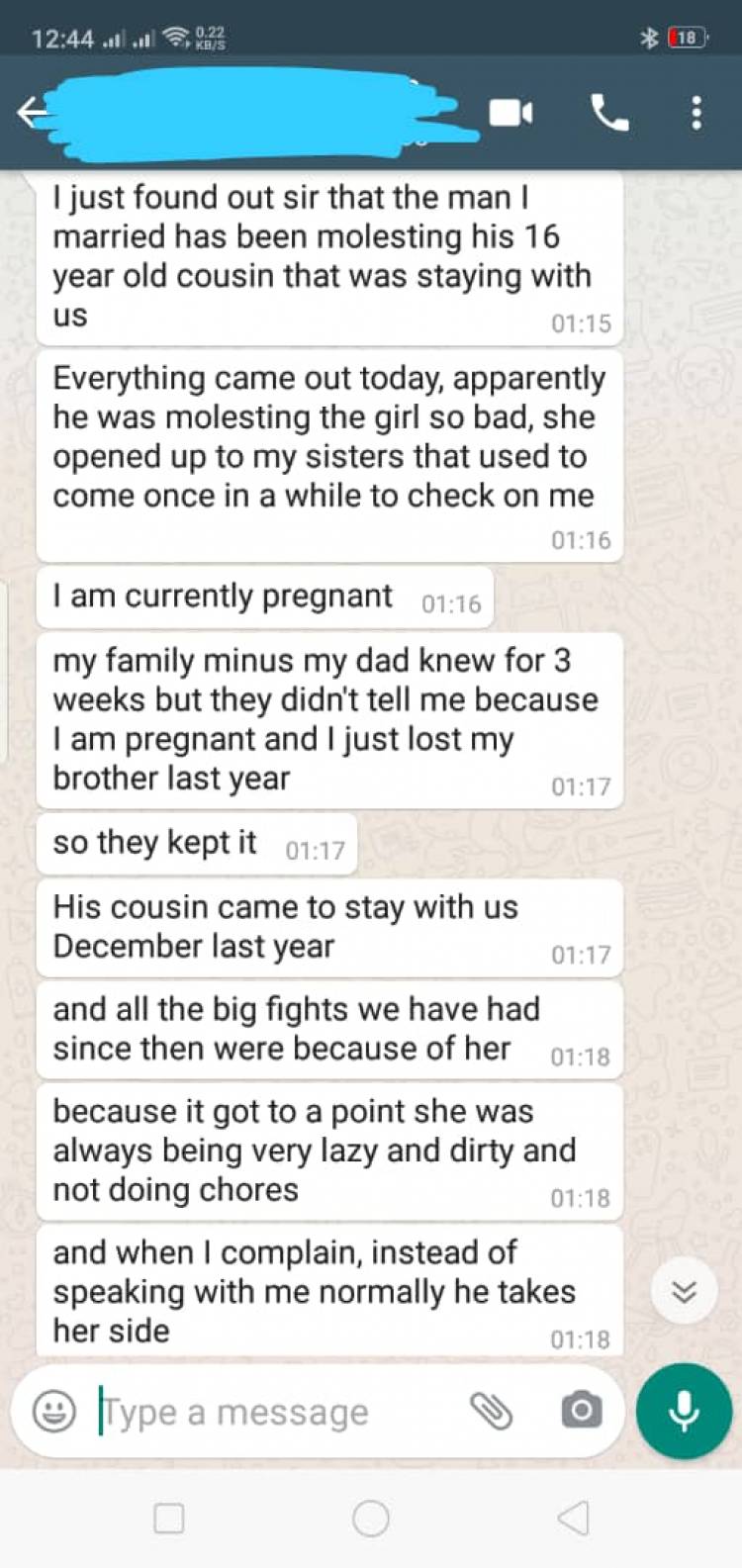 The family moved into one of the
few rentable apartments in the estate
in June 2005
He was sixteen years old at the time
His father built the house next door
to the block of flats from which the
family rented an apartment
It was a family of five
A beautiful woman and her four children
The oldest child was lady, she was very
pretty but looks much older than him
She also has a boyfriend
He had seen the guy come to their flat
once or twice within a week of their arrival
The second child was a boy, he was a
student of a technical school in Oshogbo
The boy was his age mate
Then there was a pretty girl, she was
still in secondary school like him
She was about fifteen years old
The last child was a young boy of
about five years
He was not from the same father
as the other three
Perhaps the product of an affair
or a love gone sour
He was drawn to the fifteen-year-old girl
immediately
He really liked her and wanted to be her
boyfriend
He would stand by his window
(His bedroom was next to their compound
and he could see the compound through
his window) all day and stare into their
compound waiting for a sign or a movement
that could help him achieve his aim
Eventually, he got his chance
His mother sent him to get some kerosene
Her mother sent her to grind some pepper
They met just as they were both stepping
out of their compounds
He said hello and she said hi
That was how they became friends
They walked to the shopping complex
together
He got to know her name and school
She was not a novice at the game he
wanted to play
What he had in mind had nothing to
do with love, had she been a naive virgin,
he would have dismissed her immediately
From their conversation, he realized
she had a boyfriend and she was already
having sex
He figured all he had to do was convince
her to dismiss the other guy who was a
former neighbour living in the area her
family moved away from for him or
convince her to keep him as a second
fiddle
He made his intentions known that
very first day He asked her if she
would like to be his friend
She got what he meant
He also told her when she could come
over to see him at home
His mother was a principal
She left home latest by 7am every
workday
He was in SS3 at the time and had
his own copy of the key to the house
The only headache he could have
was his twin sister
She was a born again Christian who
reported everything he did to their
mother as a matter of holiness unto
the Lord
They were both in SS3 but they
attend different secondary
schools
All he had to do was leave home
with their mother in the morning
Their mother would drop him at
his school and drive off to work
Then he would return home and
have the house to himself until 4pm
when his mother and his sister
would return home
He had done it several times in
the past
It was all about meticulous planning
and strategizing
The following day, he returned home
by 7:30 AM
He sneaked into his parent's compound
and changed from his school uniform
He went to his room and resumed his
watch on the next compound by his
window
He saw her leave around 7:55AM
He quickly rushed downstairs to
wait by the gate of their compound
When she stepped out of their compound,
he whistled
She didn't hesitate
She walked straight into the gate he
held open
She was as much a truant as he was
When they got into his parent's flat,
she changed everything
She said she was a virgin and felt
they were only there to talk about
having a relationship
He kept trying to kiss her and all
but she kept pushing him away
When it was around 10AM and
she still wouldn't give in, he gave up
He told her to leave
She saw that he was serious
She said she had gone to see her
boyfriend at home before and
they got caught while having sex
She said she was disgraced by
her boyfriend's family and neighbours
and that was why they had to move
out of their former area
She told him if he really wanted to
be with her that way, he should
come to their apartment
She said her mother had gone to work,
her elder sister was with her
boyfriend and her two brothers
had gone to school
She, like him, was home alone
She said she would feel safer in her
mother's flat
He thought about it and decided
it was worth it
They left his parent's house around
10:30 AM
When they got to her parent's flat,
her body language changed
She kissed him and started taking off
his clothes
It was exactly as he imagined it with a
few adjustments in the background
Everything went as he expected
He returned to his parent's house at 2pm
The next day, they did the dance again
They were in the middle of it on the third day
when he felt a hand caressing him from
the back
He turned around and saw her mother
She was stark naked and smiling
encouragingly as she watched him dig
deep into her daughter
He wanted to shrink away but somehow
he couldn't
Her mother was singing a strange song
and kept her cold hand on his back
even as he kept digging
When he was done, her mother lied
down right beside her daughter, opened
her legs and told him to dive in
He wanted to run but he couldn't
Something had happened to his will
Something he couldn't explain
He could no longer do what he desired
or wanted
He got to work
It was hard work
By the time they released him later
that afternoon, his digging equipment
was sore
He could barely walk
He slept as soon as he got home
He felt feverish and cold
When his mother got back from work,
she met him sprawled on the sitting
room couch burning hot
She rushed him to the hospital
He was there for a week
The doctors said he had acute malaria
By the time he got back home from
the hospital, he noticed that there
was an unusual quiet in the next
compound
He waited a few days before asking
his sister about them
His sister said they moved two or
three days after he was hospitalized
They had barely spent three months in
the estate before packing out, it
was very unusual
A few days later, he saw them
It was in the afternoon
He was carrying a bag full of crabs
They were seated, mother and daughter
beside a huge clay pot on a local stove
He handed over the bag of crabs over
to the daughter
The daughter poured it into the pot
as her mother stirred the pot continuously
When the bag was emptied, it was handed
to him and he returned to the river bank
hunting more crabs
When he woke up from the dream, he was
drenched in sweat
He could perceive the smell of the
river and the crabs everywhere
It was so real!
He didn't tell anybody what he saw
He prayed about it begging God to
forgive him and not allow any evil
plan of the enemy to come to pass
over his life
He vowed never to sleep with anybody
until he got married
Something was wrong with him but
he couldn't explain it to anybody
He felt weird all the time
As if his head was full of air
He couldn't think right
It was as if his capacity to live a
fruitful life was diminished
He failed his examinations over
and over again
He stopped participating in life and living
He just sat down and stared into space
all-day
His parents didn't notice the change
a first
His mother, who was aware of his notoriety
Within the estate was glad initially,
She felt God had taken control of his
wildness and he had started to calm down
But it later became a concern
He became a shadow of himself
Always sitting down and starring into
nothing
His mother would call his name several
times before he would respond
If they send him on an errand he would
forget half of what he was sent to do
He was always eager to drive, so they
used to keep the car keys hidden from
him but after the episode, he would
look at car keys as if he had no idea
what they were
The doctors they consulted insisted
it was a mental or emotional issue
The psychiatric said it was depression
They tried many things
Nothing worked
His twin sister gained admission into
the university and his older brother
got married
He was oblivious of it all
He bathed himself and could do the
necessities of living
It was as if he was only existing
for the sake of it
After the first five years, his father
took him to a specialist in America
His case was so unique that after
the specialist read the notes of the
attending psychiatrist, he offered to
take on his case pro bono if they could
get him to the USA
They were in the USA for six weeks
The specialist concluded his brain
was locking him out of certain functions
while allowing him to perform the motor
functions
He didn't improve in any way
Months rolled by
His age-mates within the estate
graduated, got married and moved on
in life
His twin sister completed her masters,
got married and started a family
His father's older sister returned home
from Italy
She came to spend two weeks in their
house
As soon as his father's older sister saw
him, she turned to his mother and
started screaming
"Are you daft? What sort of a mother
are you? Can't you see that this boy
is afflicted and it is not a matter of
hospital? You are a wicked mother!"
His mother didn't know what to say
They were Christians and her church
Reverend was aware of everything
His mother was not the type that
would run to spiritualists for help
In her experience, if you go to them
with a problem, you return home with
ten problems
His father's elder sister brought
him to the office of the brother
in Jeans and T-shirt
The brother in Jeans and T-shirt
hugged him tight and pronounced
the power of the Holy Spirit upon
him
The brother in Jeans and T-shirt
and his aunty joined hands with
him and prayed in tongues for
a while
He didn't react at first
After about twenty minutes, he
started belching and screaming
The Brother in Jeans and T-shirt
blessed him
By the time they got into the car
he was fast asleep
His aunty promised to keep in touch
They left
Three weeks later they returned
He had recovered a little
This time his parents came with
him
His mother said they had a strange
visitor
A lady in her late twenties who used
to be their neighbour fourteen years
before
The young lady came to ask after
him
They told the young lady he was
not around (This was what they
usually, tell anybody who asked
after him since the affliction
started)
They said the young lady refused
to leave and at a point turned violent
Throwing stones into their compound
and damaging some properties
They called the estate security
and arrested her
While in custody, she told the estate
security officers that her mother
was sick and could die if she
doesn't see him
Nobody could make head or tail
of her story and they released her
that night with a strong warning
never to return to the estate!
She returned the second day
with a pastor
When they saw her at the gate
they told her to leave otherwise
they would call the police
The pastor intervened
The pastor asked if they could come
into the house
They said no!
They met with her at the pastor
by their gate
She claimed he raped her and her
mother years before and as a result
her mother developed a mental problem
She claimed the mental problem was
seasonal and they couldn't get a solution
to it until recently when a spiritualist said
they should bring his tears before her
mother could be healed.
They didn't wait to hear any more,
they sent her and the pastor away
The next morning they all got in
the car and drove to Lagos to see
the Brother in Jeans and T-shirt
The Brother in Jeans and T-shirt told
them to call her and put the phone on
speaker
They did
The brother in Jeans and T-shirt asked
him to tell the story again but this time
to tell the truth or her mother would die
She told the truth
As she spoke, everybody listened
The afflicted listened too and suddenly
he came to himself
He started to cry bitterly
He remembered everything!
PS: This lady's mother was in Benin when
she called
They did what they did for money ritual
After the phone call, they went
incommunicado
Its been eleven months, nobody heard
from her or her mother
We can only assume the best
This event happened in Bodija Estate
extension, Ibadan
Taiwo was 16 when he got afflicted and
he recovered all at the age of 30
He lost 14 years of his life!
He is currently a Pre-degree student
at a private university in Osun State
We are trusting the Lord Jesus for
Taiwo's full restoration
GSW's Note: The price we pay for
foolishness is steep
The price we pay for carnality is
very steep
A lady sent me a message this morning
about her husband's conduct
The husband was sleeping with his
17-year-old cousin who was living
with them
The family has heard about it and
his pregnant wife was in tatters!
For what?
Sex?
In my opinion, the price people pay
to service their dark desires is too
steep
It has never been worth it
Yet nobody by himself has any power
over these desires
Without Jesus, we can do nothing!