Chasing Nothing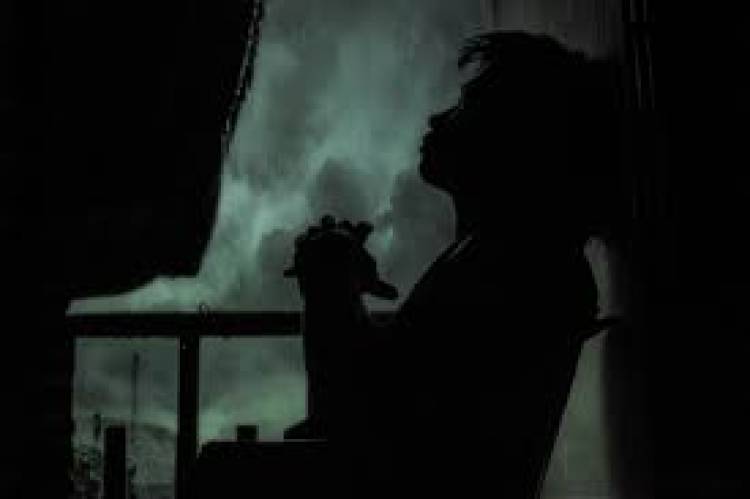 Stale
She was in line to be the next
Deputy Director
She had taken all the courses
required and even spent a lot of
money getting her MBA from a
foreign country
She knew when she was investing
in all the international courses that
the knowledge and the experience
would spur her career to very
wonderful heights
She schooled in England
She got to England at the age of 17
and she applied herself as was
expected of her
After her graduation, she returned
to Nigeria for her ICAN
She passed the examination in flying
colours
She could have returned to England
to pick up where she left off but
she met her husband during the
NYSC and she decided it would be
best for her to stay in the country
and start a family
As soon as she changed her mind
regarding England, she applied for
jobs in Nigeria and she was not
surprised when she got a positive
responses from all banks and
other financial institutions she
applied to
She was a hot cake and she knew
it
Everything was fine for the first
five years
her reviews and appraisals were
very good
She was always one of the very
first to get promoted but suddenly
something happened
It was as if things just stalled
She was in line to be the youngest
deputy director who came into the
bank as an employee and grew
through the ranks to attain the
position but it didn't happen
It started with rumors of the CEO
planning to poach an experienced
hand from another company to
some other politics she couldn't
wrap her head around
She was practically doing the job
of the Deputy Director unofficially
Any sensible system would recognize
that and give her the title and the
benefits that came with it but it
was not to be
One day she was invited to the
board meeting of the organization
and told that the company
had employed a lady from another
country as the Deputy Director of
the organization and she has been
tasked with the duty of showing the
new deputy director the ropes.
It was as if the land should open
and swallow her up
Why would a competent deputy
director needed to be shown the
ropes?
What does that even mean for her
own career?
It was her position and she had
worked very hard to earn the slot
Somebody called her and told her
it was someone who whispered into
someone's ears and changed
something
Another person called and said she
was not playing the right office
politics and all
It was all very cumbersome
She was diligent and competent
The scripture says she will stand
before kings and not mean men!
She got home barely able to hold
back her tears
Her husband was working with
one of the oil firms and felt she
didn't need to stress herself in
anyway
To him, once you are unhappy in
any organization, switch to another
one
He had worked in several companies
but he never stayed in any organization
for more than two years
When she told him her situation
He told her to resign
He didn't bat an eye, he just said
"Unless you're not as good as you
think, once a company takes you
for granted, you walk out"
She knew he was being candid and
if he was in his shoes he would have
resigned the moment the injustice
was announced.
She just didn't have the nerves to
do that
She cried throughout that weekend
She cried so much that her husband
told her he would pay her salary
for the next one year if she would
just resign and "bullshit" the
organization.
But for her the issue is not about
money
It was the hours she has put into the
growth of the organization
It was about the staff members she
recruited and was training in the
course of her work with the
organization
It was about her attachment and
relationships
It was about her hope and dreams
It was about her expectations and
what she deserved
She told herself she would put her
head down and go back to work
She promised herself God will fight
for her and all
She got to the office by 7:45 am as
usual
She had psyched herself up and
even wore a brand new outfit to
help her confidence
The MD and the new Deputy Director
arrived at 9 am
The MD introduced the new Deputy
Director to the senior staff members
personally
When they got to her office, she
beamed like the sun and found
herself surprisingly very composed
and warm but as soon as the initial
pleasantries were over and the
MD left with her new boss, she
discovered her hands were shaking
It was just too much for her to bear
She told herself things will get better
An hour later, her intercom buzzed
It was her new boss
She left her office immediately to
heed the call
When she got to the Deputy Director's
office, she found three files on her table
They were files she had submitted
to the Managing Director's office
several months before containing
her ideas for the organization
The Deputy Director told her to sit
down and explain the ideas in
detail
She did
A week later, the ideas were executed
but the credit went to the Deputy Director
It felt like a deliberate slap to her
face
She worked for many weeks to put those
ideas together
The MD left the files to rot on his table
until someone else was handed the credit
on a platter
It felt too much like a personal beef
She resigned the next day
She didn't drop the letter
She just lost the will to get up and
go to the office
So she sat at home and slept
That was it
She stopped going
After a week of calling in sick,
she mailed in her resignation letter
Nobody expected it
The CEO called her an hour after
she sent in the mail
He wanted to know why she was
throwing away her career
She told him she felt she just needed
a break
She didn't want to leave on a petty
note
She had always carried herself with
an air of dignity and self-respect
After the call, she began to pray
for divine intervention
She needed to be able to rise out
of the ashes like a phoenix
She needed a huge miracle, something
that will place her where she
ought to be or even far above that
but short of opening her own
bank or getting a job as a director
with another organization, there
was no way she was going to hit
that target
She was just four steps removed
from the CEO before she resigned
She was 36 years old
Her decision was not based on
rationality
It was all emotional
She thought she had tamed that
animal while she studied
emotional intelligence at one of the
seminars she attended
Two weeks after she resigned from
her job, her husband left her
He woke her up in the middle of the
night and said a lot of things
After all the talk, he told her he would
be moving out the following day
because had never felt any love in
the marriage
He said she was too career-driven to
pay attention to the home and the
marriage
He said he had hoped she would do
better after she resigned but he noticed
that all she did was sit in her room and
mop all day over her career as if she had
lost a child to death
He accused her of being married to her
job and paying little attention to the
family
He was right
Even she had to acknowledge that
She had been poor at nursing and other
home chores
It was just how she was
They had both laughed over her
inadequacies in the past
She thought he was okay with it
Everything happened so fast
She assumed they would find a way
to make up
Her husband was not a cheat
She knew he was just trying to make
a statement and get certain things
done in his own way!
She decided to give him a day or
two to calm down
She chose a faithful and considerate
man, she was sure things would be
fine
Her husband moved to the guest room
that night
She told herself she would make amends
after he cools down
The next morning, she woke up late
The thought of the injustice at her former
office hit her hard
She cried and cried
She didn't know how the whole day
sped by
She suddenly hated her husband for
being so selfish
Why did he pull the stunt he did right
in the middle of her crisis?
Why was he making her feel inadequate?
His timing was off
Everybody seems to be telling her she
was not good enough
At work, she was not good enough
to be a Director and at home she was
not good enough as a wife!
She locked herself in her room for
several days
She just didn't feel up to doing anything
or facing anyone
After seven days, her younger sister
and her mom were the ones she heard
knocking on her door and demanding
that she open the door or they would
break it
Her husband had called them
He told them he and the children were
moving out
She had made her choice and he felt
unneeded and unwanted
Her mother and sister took her away
from her house
She was a wreck
They had to get a doctor to sedate her
She had not slept in several days
She was depressed
It took her three months to pull herself
out of the miry clay
By that time, everything had changed
The stock market crashed while
she was under and she was unable
to do anything to salvage her
investments
Their rent was due and her husband had
packed his things and left
Her mother and sister packed her things
back to her parent's house
The reality she had lived in for fifteen
years had dissolved
She didn't even get to put up a fight
She found herself back in her old room
The room she slept in while she was
in Secondary school
It was as if she traveled and returned
home with tales of her journey
She was lost
Her mother reached out to the
brother in Jeans and T-shirt
"My daughter needs encouragement
from a young person if her age who
can help her see that it is not the end
of the world!
We attend an orthodox church and I
could have invited my reverend but
she will not listen to him
She has blocked all her friends and
has refused to attend any public
engagement out o shame
She has refused to see her own children
and her husband out of shame
All she does was cry and mutter to
herself
I showed her a story from
gbengawemimo.com and she has
been reading the stories since then but
she is still not letting anyone in
Please help sir"
The brother in Jeans and T-shirt went
to see her the day after he received the
text message
They talked for three hours
Just talk!
After that, they prayed
While they were praying, she got filled
with the Holy Spirit
The burden upon her shoulder was
lifted supernaturally
Her face started shinning as she cried
She saw the brother in Jeans and T-shirt
off to his car
It was the first time she had been
out of the compound in several weeks
She joined the online prayers on Telegram
that night and started relating with
people on the platform
It offered her communication and
communion while protecting her desire
to be anonymous
Three weeks after the visit, she received
a phone call
Her former bank was getting acquired by
another bank
The CEO of the bank acquiring her former
bank had insisted that she must be on the
negotiating table
That was the spring she needed
Within a month, she was a director in
the new bank
The CEO who asked for her specifically
was one of her mentors when she was
a greenhorn in banking
He interviewed her for her job with the
bank before leaving to join another bank
as a management staff
She didn't know a day will come when
her goodwill with the man will come
to play in her restoration!
The new job helped her a great deal
She had been feeling a new spring of
boundless energy and needed to
channel it in a direction
The job provided the outlet
Three weeks after she resumed her
job, her husband brought the children
to see her
it was the first time she was seeing
them in many months
Holding them in her arms reminded
her of how much she had missed them
She had thought reasoning with
her husband would be difficult
but it was quite easy
He had missed her and wanted to
have the family back under one roof
He apologized for his insensitivity
and she promised to do better by
him and their children
Within a month, she got it all back!
PS: The events in this story took
place in Lagos State, Nigeria
The family is waxing stronger and
stronger in the Lord every day
It was a storm
It came with the intention of stripping
her and the family of everything
But we have the Pneuma with us
We have the Holy Spirit, the One
who sallows storms whole and
subjects the waves to order
He is the one living on the inside of
every believer
Please dont let your eyes be so fixated
on "things"
Money, marriage, career, status, pride,
ego, pastor, bishop, stuff
These are all chaff and wouldn't be able
to withstand the storm
Jesus said a wise man builds his house
on the rock and when the wind came
and the storm and the waves the house
stood!
Jesus is that rock and the Holy Spirit
is His seal on you
Always remember this...

GSW's notes: I know people who prayed
like crazy in order to get a job, a car, a
child or business but as soon as they got
it, they stopped praying!
i know a man who would travel from Ikoyi
to a popular camp monthly for prayers
until his prayers were answered
As soon as he got what he wanted, he
stopped all the religious "mumbo jumbo"
and started enjoying the blessings
A trip to London today, a trip to Jamaica
tomorrow
He did this until he got struck by cancer
at the age of 47
He had enjoyed the blessing for just
8 years
He started spending so much money
on the disease without any result
Then I sat with him on a flight from
Abuja to Lagos
We got talking
He told me tales of how he had his
breakthrough
He said "It entered my head and now
I am too busy to go back there to
pray"
I am just managing this illness and
trusting God for my healing!
I laughed
I told him to pay attention to his words
its like the prodigal son saying, i know
i will be well taken care of if i return to
my father's house but I am too busy
to return home. I will just be managing
my condition and trusting God to restore
me from afar...
He started crying...
He had become so taken over by the
pursuit of the mundane that the most
important things couldn't fit into his
agenda
Don't live your life like this
Don't put your children in a school that
will take away your rest of mind
Dont live in a house you cannot afford
Don't kill yourself in the name of
measuring up
If you will come back to the Lord, you
will see that the pursuit of nothing
yields nothing in the long run
Seek ye first the Kingdom of God and
it's righteousness
Come back home.
We will be having our global communion
service on Friday 09/10/2020
6-7pm Praying In The Holy Ghost
7-8pm Bible reading
8-9:45 pm Praying in the Holy Ghost
9:45-10 pm Communion
Please plan to join us
The Zoom link will be shared on all
our platforms
God bless you