Restitution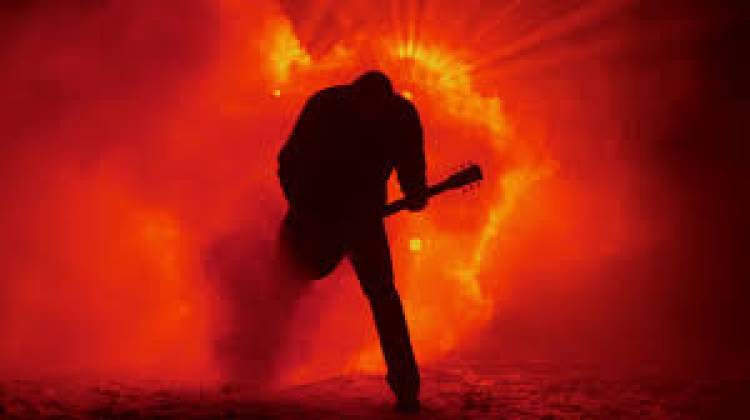 She was in the car with her two children
when the incident happened
They were in the filling station located
about five minutes from their house
Her husband was standing by the fuel
dispenser, paying attention to the meter
They came out of nowhere
The goons with guns
Perhaps if they had calmly explained
to her husband that all they needed
was the car
He would have told her and the children
to get down from the car immediately
But they didn't!
They just pointed the gun at him and
started barking orders!
"On your face! Lie flat and give us the
car keys!"
Her husband was not a violent man
But his wife and children were in the
car
He looked at her!
That was the moment he panicked!
She saw the look of dread in his
eyes!
She wanted to signal to him to stop
do what they said
But it was too late!
She heard the gunshot
She saw him hit the ground lifeless
The armed robbers panicked
The trigger happy one got a strong
rebuke from the others
All of them were masked!
They ran!
They didn't take the car
They ran past the vehicle they had abandoned
earlier, back to the main road and
took carjacked another victim!
She rushed to her husband's body
It was lifeless!
As a nurse with four years of experience,
she had seen her fair share of death!
He was definitely gone!
Her sons were aged 4 and 2
Both had witnessed the murder of their
father in cold blood
Her blissful marriage had lasted for all
of five years
Her reality had been redefined by the
thoughtless action of a criminal
A good man, a loving husband and a responsible
father had been cut down at the tender age
of 32!
His sun had barely risen before the eclipse!
It took some time
Her husband's body was taken to the mortuary
They had left home that Sunday morning
at 8 AM for church service
He was dead by 8:07AM
Perhaps they should have stayed at home that
day and not bother to go to church
Perhaps they should have bought the fuel
on their way back from church or at another
filling station
Perhaps they shouldn't have rented that
apartment so close to the petrol station
All it took was one wrong decision
And that was that!
Church members flocked around them
Nobody believed it
Youths and Elders, clergy and laity
Everybody cried inconsolably
He died too soon, too early
He had not achieved anything of note
And he had a very bright future!
The police promised to investigate
and bring the perpetrator (s) to justice
She was just numb!
She was too shocked to understand it
How could she be a widow at 29!
Isn't that just too young?
She cried bucketload of tears
His children really didn't know yet
the magnitude of the earthquake that had
pulled down the central pillar of their lives
They wondered at the hullabaloo and wondered
why she was crying!
She 'explain to them that calamity had struck
them in their innocence and their lives would
never be the same again!
The crowd thinned out after some time
It took two months before she was finally
left to face her reality as it was!
Everybody told her to be strong!
"You have to consider these children!"
"Thank God you have these pillars"
"You have to take solace in your children,
they are your future"
She heard all sorts!
Her husband was a good man, he was her
best friend and lover for many years
They started dating when they were in the
secondary school
He was a student of a federal government
college and she was a student of a popular
Baptist High school!
She was an athlete, a long-distance runner
and she was good
His school invited her school to participate
in their inter-house sports competition
That was how they met
He was in Senior Secondary Class 2
She was in Senior Secondary Class 1
He summoned the courage to say Hello
to her
She liked him immediately
She wrote down her post office box
address on a piece of paper and passed it
to him before her school team departed
His letter arrived a week later
She was fourteen and she had a boyfriend!
They did the letter thing for a year
The following year when he was in SS3
They had their first kiss in her school during
their own annual inter-house sport
Her school invited his school to participate
And they had their first "hold my hand" stroll
in his school when her school also honoured
their invitation!
He gained admission into the University
almost as soon as he graduated
He had written JAMB and GCE while he was
in SS 2 and passed in flying colours
The following year, he was all she had in mind
as she filled her admission forms!
She wanted to study medicine but she
didn't make the cut-off
She eventually had to settle for nursing
so that she can be in the same school with him!
He studied petroleum engineering,
graduated at the age of 23 (due to industrial
actions, served and was immediately employed
by a multinational firm)
She graduated and got a good job with a teaching
hospital
They got married a few years later!
And then he was killed!
She didn't know how she was supposed to cope
without him!
She cried herself to sleep every night,
wears an "It is well face" during the day
and barely goes through the motions of living
One year dragged by
Two years dragged by
On the anniversary of his death, the very day
She met this guy!
This guy with a smile that made the heart
of a widow warm and stirred her imagination
towards wicked feelings
He approached her after service in her church
one day
He was a first-timer and it seemed his eyes were
not on Jesus at all but on her
She didn't know why she felt that way
As if he purposely came to the church to
woo and be with her
He took his time to get under her skin
He was very kind and friendly to her children
He did things young men did for single ladies
to get in their skirts for her
Always warm, congenial, paid attention, feared
the Lord, waited upon her and her children!
She had sworn she would never marry again after
her husband died
She forgot about the oath about three months
after she met him
He was determined and intentional about his
pursuit of her
He was a Teacher
He grew up in the East but had recently relocated
to her town
He had the hots for her and his hots was gradually
warming her up to the idea of being involved again
He didn't rush her
They dated for two years
Five years after her husband's death, he proposed
She joyfully said "Yes"
They got married!
Within a year she delivered a baby girl!
They had a wonderful home
He reached out to the Brother in Jeans and T-shirt
on Twitter
He wrote "Sir, I will like your counsel over a
matter that is burning like wildfire in my mind!
When I was 22 I got involved in cultism
It was peer pressure and a lot of foolish decisions
that led me to it!
I was a cult member long before I gained admission
into the University at the age of 24!
I studied education!
I got a visa to travel to Australia immediately
after I graduated
My family couldn't raise the money for a ticket
and I got desperate
I approached my fellow cult guys for help
None had the kind of money I needed but we
had the means to raise the money
We had weapons and we had some of our members
who were working in the sectors where we can
get real-time information about money and
potential targets!
We became armed robbers, targetting our
marks based on good intel!
We went to raid a Church one Sunday morning
just after they concluded their early morning service
by 7:30!
We got some good money!
Our getaway car got faulty at a petrol station
We abandoned it and hastily ran into the
Petrol station
All we wanted was another getaway car
But the man, whose car was being fueled
refused to obey us
I panicked!
Brother Gbenga, I shot and killed him this man!
It was later i saw that his wife and children
were in the car!
We escaped!
But nothing was ever the same after then
I didn't travel as planned
The other gang members took their cuts
and split
I was left to deal with the repercussions of
my heinous crime
I gave my life to Jesus Christ afterwards
I was told I needed to make restitution
The news of the murder made the newspapers
I was able to trace their church
And connect with the wife and children
after three years!
I have married her and taken the children
as my own
I love her and will make sure I am there
for her all the days of my life!
Do I need to confess what I did to her?
Is it true I will never make heaven unless
I confess to her and get her forgiveness?
I am afraid if I do that it will ruin everything
I love her and I don't want to lose her!
Please instruct me on what to do sir!"
Ps: I wrote to him and told him what he
should do by the leading of the Holy Spirit
He did it!
The result?
His wife delivered a second daughter two
years later!
We met in May 2019, the couple and their
four children!
They were relocating abroad!
I had the privilege of blessing them on
before they set out of the country!
Without the Holy Spirit, a believer can never
truly enjoy the full measure of justice, mercy and
liberty that is guaranteed in Jesus!
-GSW