Building Purpose and Making Impact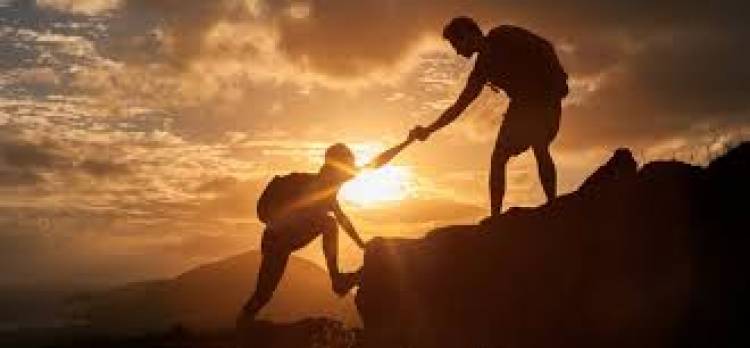 There's something called purpose.
You must be conscious that there is
a divine reason for your being here.
You're live came by the predestination
of God.
Your life isn't dictated by human wisdom.
Eph 2:10 amp
AMP:For we are God's [own] handiwork
(His workmanship), recreated in
Christ Jesus, [born anew] that we may
do those good works which God
predestined (planned beforehand) for us
[taking paths which He prepared ahead
of time], that we should walk in them
[living the good life which
He prearranged and made ready for
us to live].
Good works has predestined for us.
It was divinely instituted in your name
before you came on the scene.
This is why Pastor always say
"I'm set for the course that I must follow".
Of course they'd be challenges but
those are your stepping stone to your
success.
Your life is no accident and there's a
purpose that only you can fulfill
The fundamental that you should ask
are WHAT, HOW, WHY.
When you know What, you begin to live.
When you know How, you begin to succeed
When you know Why, you begin to reign.
When you ask this questions,
you are asking this to get answers.
When you do
Your Before and After must not
be the same.
Reference
A: What's up
B: Its ITPLC 2019
A knows what
A: So how do I attend the conference.
B: You register, pray, you take note...
A knows how.
Every excuse perish on the alter
of purpose.
Topic: WINNING YOUR WORLD.
(Shinning Your Light)
Mathew 5:16 Let your light so shine...
It is not an option or a request.
You must shine.
Shine with increased intensity.
Mathew 5 :15-16 The Message Translation.
15: If I make you light-bearers,
you don't think I'm going to hide
you under a bucket, do you?
I'm putting you on a light stand.
16: Now that I've put you there on
a hilltop, on a light stand - shine!..
For the fact that God made you
a light do you think he would hide you?
He would expose you.
The spotlight is on you.
You can't say no.
It is too late.
You've got to the good works.
Isaiah 60: 1-3
KJV:Arise, shine; for thy light is come,
and the glory of the Lord is risen
upon thee.
2) KJV:For, behold, the darkness
shall cover the earth, and gross
darkness the people: but the Lord
shall arise upon thee, and his glory
shall be seen upon thee.
3) KJV: And the Gentiles shall come
to thy light, and kings to the brightness
of thy rising.
God says your light has come and his
glory is risen upon you.
Gentiles come to your light....
This doesn't need any permission.
The only place that your future is in
certainty is in the word.
Nobody-knows-tomorrow is one tool
of the devil that makes young people
frantic and desperate.
They make use of the equipment of
the world.
Hopelessness.
In winning your world
Point 1
You cannot use the method of the world
to win your world.
You can't use the world rules.
In our world, our kingdom failure is
not an option.
The world says failure is normal.
Sure ways to succeed .
Nobody likes struggling.
If your are struggling, you're not
doing it for God.
You're doing it for yourself because
Jesus said come to me
O ye heavy laden and I would give
you rest. If you're a Christian and
you struggle it is because
1. Ignorance
2. You are doing things by your might.
You've got to
Get knowledge and do things by
the spirit of God.
Point 2
Followership.
You can't follow a success and be a failure.
Your followership would be determined
by your result.
Reference.
If a car decides to lead ten cars to
Ibadan and two cars get missing.
You don't need to ask questions if
they followed.
It is a vital.
You can't follow Pastor and be a failure.
The way a son can follow his father
is in one mind.
Psalm 127:4-5
KJV:As arrows are in the hand of a
mighty man; so are children of the
youth.
5
KJV:Happy is the man that hath
his quiver full of them: they shall
not be ashamed, but they shall
speak with the enemies in the gate.
One qualification of a mighty man is
that his children are like arrows.
You are fired for greatness.
You are Pastor's agent.
He is blessed because he has
his quiver full of us
Represent the vision of our
man of God.
Isaiah 8:18
KJV: Behold, I and the children
whom the Lord hath given me
are for signs and for wonders
in Israel from the Lord of hosts,
which dwelleth in mount Zion.
If you are Pastor's children, you
are for sign and wonders .
Once you are a leader, you assume
a burden of responsibility.
You become chosen with time.
You become effective with time.
Leaders think of tomorrow.
Point 3
Challenge the status quo.
This isn't only about looking for
things that are bad to make it better.
It is about making better things
more better.
There are three people in a race.
1. The Olympic Idea'ed person:
What the Olympic Idea mean is
just the joy of participation.
This person is just happy to participate.
2. The person who wants nothing
but the first place.
This looks nice, right?
The third person is better
3. His eyes are beyond the finish lines.
He fixes his eyes on the world record.
All he wants is to break that record.
The preparation of this three would
be different.
Point 4
The world would never cooperate with you.
The world would do you no favours.
We are not even called to cooperate
with the world.
We're called to dominate it.
We give people hope.
Day 2 ITPLC 2019 Super session with
Pastor Freedom Eriya.
How to make increasing and sustained
impact in the ministry.
Impact means you are beginning to
dictate to a large extent of a particular course.
There are questions that you need
to ask to wake up certain abilities:
1. How can I achieve more in what I do.
2. How can I get more result.
This is not only about asking questions ,
It is in getting the answers.
3. How more can I do more.
Start with yourself before saying
what can we do.
Philippians 3:13 msg
Friends, don't get me wrong:
By no means do I count myself an
expert in all of this, but I've got my
eye on the goal, where God is
beckoning us onward - to Jesus.
14 I'm off and running, and I'm
not turning back.
15 So let's keep focused on that goal,
those of us who want everything
God has for us. If any of you have
something else in mind, something
less than total commitment,
God will clear your blurred vision -
you'll see it yet!
16 Now that we're on the right track,
let's stay on it.*
Point 1
You must be mindful of soulwinning.
Soul winning is what you must do to
be satisfied.
Man's desires are endless.
You have to channel your desire to
the spirituals.
To begin to sustain your work,
look at the power of your influence.
Acts 1:8 Amp
AMP:But you shall receive power
(ability, efficiency, and might)
when the Holy Spirit has come upon you,
and you shall be My witnesses in
Jerusalem and all Judea and Samaria
and to the ends (the very bounds)
of the earth.
When you received the Holy Spirit,
you received ability, efficiency and might.
Col 1:10
KJV:That ye might walk worthy of the
Lord unto all pleasing, being fruitful
in every good work, and increasing in the
knowledge of God
If lives are not changed, impact is not made.
Point 2
Serve God with a willing mind.
To make sustainable impact, you must
have a willing mind. You're to say Yes to
the things of the spirit.
Point 3
Catch the vision.
Vision for more, vision for impact.
Once you are able to catch the vision,
there's no stopping you.
Question yourself about the impact
you'd make in the next ten years.
Ask;
1. Who am I
2. What's my objective
3. What's my business.
Point 4
Localize the vision.
Make it personal.
Run with the vision.
Every now and then schedule time
where you "HolyGhorize".

Point 5
Speak the word.
Be motivated for growth.
We do more because of the
love of Christ.
The message we have must go round.
The person with the strongest
message dominate and influence the area.
The message becomes their philosophy
and pattern of thinking.