Christkind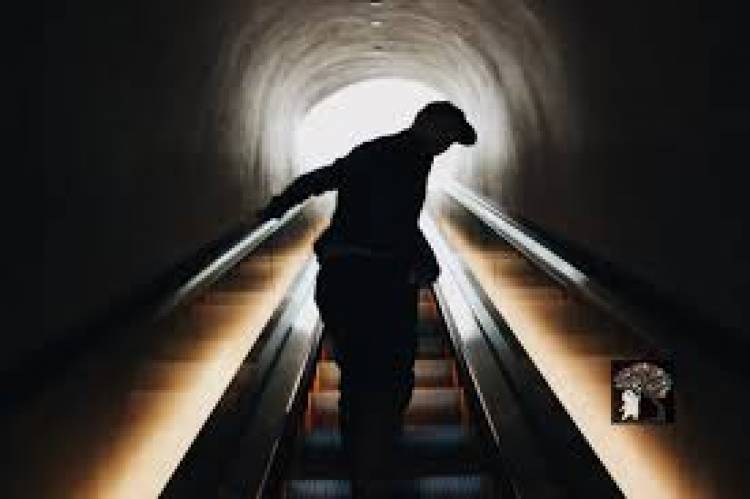 The story his mother told him was
outrageous
How could anyone be that desperate
to have a child?
Of what value is delving into the den of
darkness all in the name of erasing
the shame of barrenness?
Why didn't his mother adopt?
Why didn't his mother wait?
His problem started when
He turned sixteen!
He would sleep in his bed at night and
wake up on a refuse dump somewhere
around the city!
It always happened in the night!
He was never conscious of what he
was doing
He usually came to himself just as the
cocks begins to crow
He would become aware of who he
was and where he was!
He would be smelling of filth and he
suspected that sometimes he fed on
rotten food and other things on the
refuse dump!
His parents were quite wealthy and he
was their only child!
They tried very hard to help him come
out of the problem
At first they locked
The doors and the gates!
They got security men to watch over
the house and gave them the power to
arrest him if he ventured out of the
compound!
It failed!
He always got out of the house mysteriously!
So his parents changed their location.
They moved from the heart of the city
To one of the estates on the outskirts of
the city His parents wanted to keep him far
away from refuse dumps
They had become an object of pity in the
neighborhood they were living in and his
parents felt a change of scene would do
everybody some good!
It didn't work for him
As soon as they moved to the new house,
his disappearances intensified and this time
he would have to walk for many miles before
he got back home after he had regained his
senses!
Before he would get home within 30 minutes
and only the early risers saw him but this time
everybody saw him walking home early in the
morning smelling of refuse, dirt, and waste
all over his body and his eyes blazing like fire!
He got committed to the psychiatric hospital
at least three times a year!
Nobody could diagnose what was wrong
with him!
They kept him and released him
Yet the problem persisted!
He hated it
He hated what he was
He hated being looked at by many
like he was a mad man who could go off
the rails at any moment!
Somehow he gained admission into
the university and was able to get a
degree!
The tricky thing about that was the fact
That his parents deliberately rented
an apartment close to a refuse dump
for him!
They made an allowance for his condition,
hoping he could dash to the refuse dump,
do his thing and then return to his
apartment to freshen up in the morning
before going to school!
It was the only way they could help him
and it worked!
He kept to himself and made sure he
kept human contact as the barest minimum
He did this so that nobody can care enough
to spead rumors about his condition on
campus!
He was a weird guy and only a few people
knew about his dilemma on campus
His mother confided in the landlord of his
one-bedroom apartment and some other
people!
His mother just wanted them to keep an
eye on him and not panic when they
notice the pattern!
Academically he had a photographic memory
He was very sound
He graduated with a second class upper
His parents insisted he would not observe
the NYSC
They got him an exemption on health grounds
His father got him a job in a bank
His parents just kept managing him
He had his good days
He also had his terrible days
He was as human as others except for
the refuse dump visits
When he turned twenty-five his mother
started shopping for a wife for him
His mother was sure there was no hope
of a happy marriage for him
She just wanted to milk children out of him
The children would be her compensation!
His father, encouraged by his mother,
drove him to a brothel at least once a month
to sleep with prostitutes!
It was the only treat they had to give him
for being a good boy and he looked forward
to it eagerly!
Somehow his mother got a young lady,
she was a local girl who hawked cooked
beans and bread!
The lady got pregnant for him
His mother took the lady in and cared for
her like a daughter
He was not allowed to live with her in
his apartment
She comes to him during the day and
plays the role of a wife but at night
she slept with his parents in their apartment
upstairs
This was to prevent her from being
Exposed to his dilemma
She delivered a son
It was his happiest day in life
The boy grew quickly and normally
Until he clocked six and took to eating
dirt!
No matter what food they gave him,
he wouldn't eat it until he got some dirt
or sand and mixed it with the food!
It was Terrible!
His wife couldn't understand it
She started going from clerics to spiritualists
Doctors definitely didn't get it
The clerics told her she should ask her
husband what the source of the problem was
She asked him on her knees, in tears
He told her to follow him
They went to see his mother!
His mother told them her story
How she desperately needed a child
and had to eat seven types of convictions
on the most stinking refuse dump in their
town while she was stark naked!
She said all she did was in a bid to
be a mother!
She said she was never told
Her child would have issues or that it
would also affect her grandchild!
They resigned to fate
A friend told her about the brother in
Jeans and T-shirt
She called him and told him her story!
He asked her if they were believers
She said No!
They were non-Christians
He told her the case was not hopeless!
Her family came to see him in Lagos!
He told them the devil was not given
the power to create human beings!
The notion that he and his son came
from the devil was not only a lie but
a hoax!
God made man in his own image!
Going by the characteristic of the
Devil, if he made anything, it will have
to be in its image and not in th image of God
They got it!
He led the couple to Christ!
After they had given their lives to Christ,
he filled them with the Holy Spirit
Then he rebuked the strange spirit of
malady over him and his son!
He blessed their family!
The young boy started crying,
his mother brought out his food!
(The one they had carefully mixed
with some brewery waste)
The boy sat down to eat
The brother in Jeans and T-shirt prayed
in tongues
His parents prayed in tongues
They watched him as he took a spoonful
of the food!
He ate it and spat it out immediately
The brother in Jeans and T-shirt laughed!
His parents cheered!
The yoke of affliction was brokenness!
Ps: They now live in Lagos
He works with a new construction project
on the Island as a consultant!
Their son
Attends a school on the Lagos Island
He is eight years old now!
Both father and son were completely
set free and set in Christ
His parents came to see the Brother in Jeans
and T-shirt on their way to the airport
as they went on a deserved vacation!
The Holy Spirit restored Eden
GSW's note: The devil has an image
If he wanted to make anything
He would make such in its own image!
You are the image of God as a mankind
But when you came into Christ,
you became a Christkind!
A citizen of Zion!
A member of the assembly of the saints
in light!
You are of God and in God!