Randy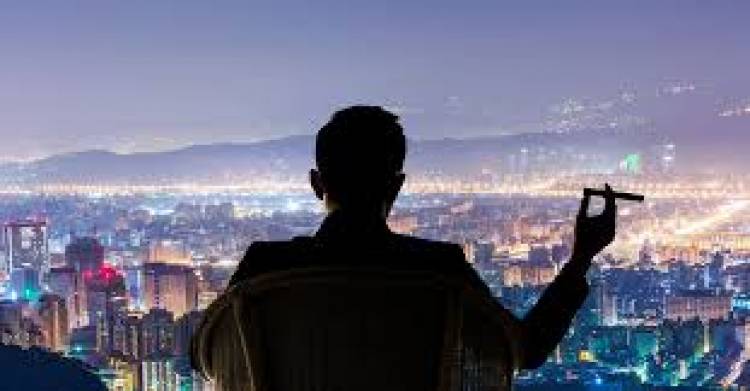 =It is hard to be married to a
man of the world
A man who lived for pleasure
A man who lived for self
Especially when such a man
is self made
An iconic success story
Handsome and rich
A man who owes no one,
not even the society any
form of allegiance or responsibility
Her man!
Her man was every woman's dream
Her man was every wife's nightmare
He was a serial cheat
But he was not a careless
cheat
He used a condom always,
he ate well and had his
exercise routine
He was a powerful man
And it is about power
For him there was a thrill
to be sought
A conquest to be had
He an aura of royalty
He was born and bred
in the UK
He had finesse
They met when she was in
her mid-twenties
He was already a high flier
in the financial world
She was just writing her
ICAN examination
She went to his firm to see
a friend who promised to
help her get a job
He was driving out as she
was walking in
The moment he saw her
He parked his car!
That was his flaw
He loved beauty and would
do anything to have
beautiful things
He had the money
She was in the reception
when he caught up with her
He smiled and told her he
had to park when he saw
her walking into the firm
Wow!
That opening was plucked
right out of her imagination
She had watched the
"Joy girl" advert as a child
and loved it
The way the lady in the
advert caused commotion
everywhere with her beauty
was an obsession with her
She wanted to be that girl
He made that dream come
true
He had worship in his eyes
She knew he was smitten
She melted
He was eleven years older
than her
He had everything
She was the missing piece
of the puzzle
His beauty queen!
Of course, she knew he had
an obsession with perfection
He had acquired cars,
wristwatches, paintings,
artifacts, designer clothes
and so on
It was a statement of his
wealth
It was also a statement of
how he would most likely
treat her
Like one of his acquisitions!
She saw the signs
But she convinced herself
she was Intelligent and
would make him see that
she was no bimbo!
Everybody in her family l
oved him
There was nothing to object
to about him
It's like objecting to a
gift of a billion dollars
Even a fool would think
twice
His family members were
deliriously happy
He was finally getting
married after all the
pleas and admonitions
The wedding was a class act
He had the best of everything
All the who is whos were
there
It was a good thing she was
also from a rich background
It made her fit into wealth
easily
They had a good understanding
They also had mutual respect
But the one thing he lacked
was faithfulness
He went to work
Went to the club
Did what every other rich dude
did
And slept around
He was careful at first
But she was smart
He tried to hide it
But she was a born sniffer
She caught him all the time
He would apologize
She would forgive
He would promise to change
And then he would do it again!
That was the cycle!
At a point, she had to accept it
She had to!
It was driving her insane
She was always looking at the
mirror
Trying to be finer for him
Feeling as if it was her fault
that he had to sleep with other
ladies
She started hating other ladies
suspecting every lady
Misbehaving to every lady
Losing her confidence
Becoming depressed
Losing her mind
By this time she had delivered
her third child and only son
She went for tests regularly
to be sure he had no infected
her with anything
The test results were always negative
The ladies he slept with
were always young ladies
from a very neat and stable
background
He kept far away from
prostitutes
He did only the cream
girls
For him it was not a problem
He only saw it as enjoying
his life
Even though she grudgingly accepted it
And he also had the effrontery
to say "It is not a threat to you,
it is just pleasure"
She was angry
What else was she supposed
to do?
She had children for him
She was a good wife
She tried as much as
possible to keep herself
trim and shapely
He never denied her sex
or returned home claiming
he was too tired
But she couldn't remove
the image of him being with
other ladies from her mind
She told him she would cheat
too
He told her to go-ahead
He was the powerful one and
he knew it If she cheated,
he would throw her out
She knew this
He was that ruthless
He made sure she had
everything
She was the queen of his
kingdom
But she had to swallow
the fact that her "King" had
his harem of beautiful women
which must be a part of his
royal reality!
She contemplated divorcing
him
She knew would lose big
time!
They lived in a country where
the best she would get would
be feeding allowance and
upkeep allowance for her children!
Her husband is wealthy and influential
She had to thrash the idea
One day, her husband
traveled to Abuja for a meeting
The children were in the
boarding school
It was the week of his
birthday
She decided to go to Abuja
and spend some time with
him
She also planned to organize
a surprise party for him in
Abuja
When she got to their
apartment
She let herself in
She saw him with one of
his sluts
What!
He had always kept them
in hotels
Why would he bring this
one home?
Who was she?
Was she a second wife?
Was she that important?
In their apartment,
She had suppressed her
insecurity and fears for
long time
But everything bubbled up
She ran towards them
Before he could say "Stop"
She had flung herself at
the girl
He had never seen her
like that before
She battered the girl and
threw her out naked!
Then she descended on him
He had been restraining her
She bit him until she drew
blood
She destroyed his phone
She destroyed all the
sex enhancement pills and
sex stuff she found in the
house
She went mad for about
two hours!
When he saw that he
couldn't control her he
left the house
She followed him, yelling
and throwing stuff at his car
They lived in an estate
Her behavior made him the
subject of rumors
She made him a laughing stock
She dented his pristine image
He lodged in a hotel from
that day
One day, one month, one year
He refused to return home
He said she had mental
issues and he cannot live
with a madwoman
She had a case but as time
went on he was the one w
She begged and called and
cried
He just stayed away!
She knew she couldn't
continue to live in a limbo
Should she wait?
Should she be proactive
and sue for divorce first?
Should she just walk away or
wait or keep begging him
to come back?
She reached out to the
brother in Jeans and T-shirt
What should i do?
She said "I want him saved!
It is not only about my
marriage
It is about the father of
my children
I want him to know the Lord
He is a good man
He has a kind heart
I have tried to lead him
to the Lord several times
But he always dismisses
it
Maybe because it was
coming from me
He always acted as if
God was not a factor
I know the moment he gets
to know the Lord, his life
would change"
Is there a way the Holy Spirit
can touch my husband?
Please...
The Brother in Jeans and T-shirt
told her to agree with him in
prayer
There is a certain storm a
believer can generate
through spiritual understanding
and the power of the Holy Spirit!
It is called a Contending storm
The type of storm Jonah
encountered when he was
heading away from the location
God gave him!
The type of storm Apostle Paul
encountered on the road to
Damascus!
When we release such a storm
we do not do so for the purpose
of destruction or death!
We do so shake an individual's
reality and help such evaluate
their priorities!
It is not a pleasant experience
But it is worthwhile all the
time because the result is
always a hundred percent
accurate!
The person's course changes
like the course of Jonah
changed!
He told her once the storm
was generated, she should
be willing to show her husband
love and care
She should let him see Christ in
her!
She agreed!
They prayed!
Eight weeks later
Her husband called her
He had been seeing blood
whenever he urinated
Doctors told him to watch
his blood pressure
Then he became hypertensive
Then it became a kidney issue
Then they found a growth
on his heart
They called it cardiac tumors
The doctors told him how serious
it was
He was scheduled for a surgery
in the United Kingdom
He was told he could die
He had to settle his affairs
She listened to him and
encouraged him to return
home
They got a private nurse
He returned home
He was depressed and
unhappy
He hated being sick and having
to check his vitals all the time
He was weak and frail
She invited the Brother in
Jeans and T-shirt to pray
for him
Of course, the storm was
initiated from the Pneuma
There is a passage in Isaiah
that activated it
The Brother in Jeans and
T-shirt told her husband about
Jesus!
He said "If I pray for you, you will
suddenly feel a glow within
and your stillness in your
spirit.
Your breathing will return to
normal, the heart palpitation
will stop and you will steadily
grow stronger from within!
Her husband was desperate
He accepted Jesus Christ as
Lord and saviour
The Brother in Jeans and T-shirt
laid hands on him and
commanded the storm to cease!
His heart started slowing
down until it went back to
normal!
His face brightened and his
hands steadied!
He felt life returning to his
body
His face cracked into a smile
Jesus healed him!
Hallelujah!
Within a week he was back
on his feet
He traveled to the United
kingdom as planned
His health had been fully
restored!
He became a believer
At the age of 65!
He learned to love the
Lord, love his wife and
treasure his family!
This event happened in
2015
Its been four years and
he has remained faithful
even as he looks forward
to his 70th birthday
celebrations with his family
Ps: There are several layers
of perception
I decided to be candid about
some spiritual truths here
I could have coded them
But the undiscerning will
never see the right things
So i know the obvious is
safe!