Cold Case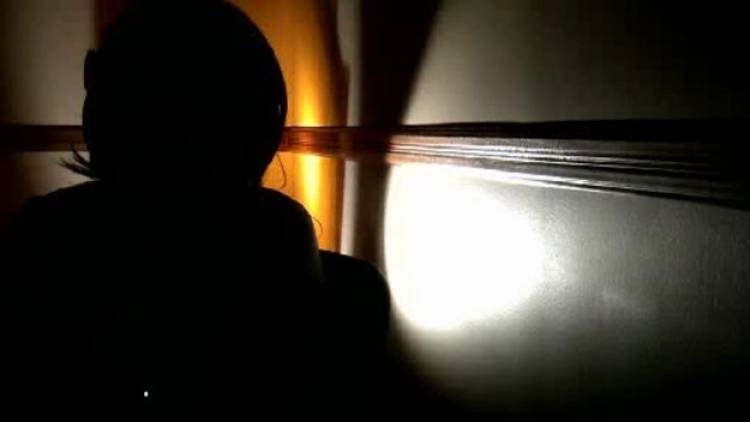 He was not a believer
He found African's fixation on God
ridiculous
He was a Nigerian
He had traveled the world
He had seen life outside of the dark
continent
For him it was no longer a question
of godliness and piety
Only a revolution can save Africa
He saw churches especially as a
product of imperialism and
a legacy of colonialism
He saw pastors as charlatans
He saw everything through the lens
of historical facts, science and
cerebral reality
He understood faith but he put no
stock in it
He believed people are entitled to
whatever belief they choose to hold
dear!
He just wouldn't be drawn into the
folly of serving a god without any real
evidence of His existence!
He lived in Bronx for twenty years
He got involved with some drug guys
He was neither using nor selling
He was just helping some of them
to keep their cash
(No launder, just keep)
The police considered him an upright
citizen
He had a good steady job
He had a good reputation
He lived within his means
The drug dealers saw all these attributes
and told him they would kill him if
he refused to help them
So he became their informal banker
He did this for five years
Nobody suspected him
Until one of the guys was arrested
and he turned into an informant
A cop gave him the heads up about
his impending arrest one evening while
he was buying Taco
He went home packed his bag and ran!
All he felt he needed to do was give
America some space
Six months or a year away
He had the drug money of the drug dealers
It wasn't so much and he didn't touch it
He had about twenty thousand dollars
in a safe in his underground apartment
He figured it would serve as an insurance
of sorts
He booked his ticket while lodged in a
hotel close to the airport
He arrived Nigeria on July 7, 2016
He was relieved!
He had passed through immigration
with trepidation
When he got to a safe hotel, he called
the cop that gave him the heads-up
The cop told him he was just a person
of interest and no warrant of arrest
has been issued for him!
He was relieved
He went home to see his parents the
next day
He was from a well traveled family
All his siblings were abroad
His parents spend practically
half the year abroad
Especially his mother who traveled
for babysitting duties from one
of his siblings to another
He was the only unmarried one
Though he fathered a child with a
lover when he was 19 years old!
He hadn't kept in touch or cared to
since he left for the USA!
His first one month back
home was spent watching movies
He had the Godfather series, Goodfellas,
Scarface, The good guys etc
He loved mafian movies
He also had some adult movies
He would stroll to a nearby guest house
and drink every evening
He kept to himself
He didn't want to attract any attention
to himself that he just returned from
America for security reasons
The ladies serving drinks at the guest
house were always dressed for the occasion
Short skimpy skirts, body hugging
tops, high heeled shoes, flirty attitude
and looks to die for!
Inevitably they got his hormones racing
He started sleeping with one
It was a casual thing
Nothing serious or emotional about it
He paid her well
After spending three months at home
he got bored
He had a very good knowledge of software
engineering
He went to some tech companies
He was given a consulting job
Something to keep him busy
That was where he met her
The born again daughter of a pastor
Everything about her challenged him
Everything!
She was good at Python, Java etc
She was a good mathematician
She played chess like a pro
She was cerebral and she was born again
How could one mix the two
Faith and fact?
Illogical Belief and emphirical fact
He engaged her in arguments
She was very sound
She studied at MIT
She was a wiz!
They started getting into each
other's space
He wasn't looking for anything permanent
He would return to his base in no time
She wasn't looking for anything
They were just colleagues
But feelings came into it
He realised he understood her
She also understood him
They had meaning in common
He started having lunch and dinner
with her
They were both geeks
He really didnt have the patience
for a date
Neither did she
They had been together for three
months when a lady showed up
at their office
The lady looked familiar
He tried very hard to remember her name
The lady walked up to him and extended
her hand for a handshake
That moment he started feeling a strange
sensation on the left side of his body!
Wow!
By evening he was in the hospital
The doctors said he suffered from mild
stroke and needed to rest
They said he would recover
He didnt!
The left side of his body remained
heavy
It felt as if his left side was placed
under a truck
His speech was also slurred
He was sure he would be fine
But the heavy load must be lifted
off his body
That was the one thing he was saying
"Please tell the doctor to lift this
load off me"
Therewas no load
The doctors told him it was his blood
sugar level that had caused an
imbalance to something or the other
He was bedridden!
Doctors had done thir best
The load remained
The verdict was stroke
The lady he was dating came to see him
She held his hand
He felt relieved instantly
Perhaps it was the emotion
But it felt as if half of the weight on
his body lifts whenever she was around
It got so bad he didn't want her to
leave whenever she visited!
He would hold her hands and cry
like a baby asking her not to leave!
She didnt understand it at first
She thought he was just being
emotional
But he managed to tell her
"Whenever you come here, the load
is lighter! I breathe better and my
body is lighter!
To prove it, he tried very hard and
moved a finger for her
She was impressed!
But she didn't know what to do
When she got home later that day
She felt restless
She called the Brother in Jeans and
T-shirt
She told him everything
She wanted to know if stroke could
be spiritually induced to afflict a person
She sent a message but the Brother
in Jeans and T-shirt was on a mission
trip at the time
The network was poor and the brother
in Jeans and T-shirt couldn't respond
After three days, she went to the
hospital to say hello
She was told he had been discharged
The doctors and nurses said everything
was done hush hush
His parents disregarded the doctor's
advice and he also agreed with them to
be discharged
One of the nurses said they took
him to a local witch doctor for treatment
Nothing she heard made sense
His parents were very logical people
She couldn't even stomach the thought
She drove straight to their house
He was home!
His father said they got a message from
an old friend that if they kept him in the
hospital he would die
The affliction was demonic
And the person gave them incontrivable
evidence
Since they were not forthcoming with
the whole truth
She had to ask to see him
When she got to his room
He was starring into the ceiling
He was still sick
She held his hand
He looked at her
Tears rolled down his face
He said "It was So and So,
The lady I impregnated before traveling!
She was the one that shook my hand
and put this weight on me!"
What!
What he said made no sense
Even for his own worldview
It would practically mean the affliction
had turned him into a believer in demons,
fetish stuff, charms and diabolical nonsense!
She couldn't ask him all the questions
she had in her mind
She picked her phone and called the
Brother in Jeans and T-shirt
The phone rang on and on
until it rang out
She wondered why her call and messages
weren't returned
She called again
This time he picked
She told him everything
He asked her where she was
She said "Bariga, not far from a popular
hospital"
He told her he would come around
He arrived an hour later
She told his parents the Brother in Jeans
and T-shirt can help
His parents said he was afflicted
by the lady whose life he ruined twenty
one years before
He put her in the family way and fled
to America
His action altered the course of her life
She couldnt complete her education
and didn't get married
She demanded five million naira cash
If they paid her, she would give them the
antidote for the charm she used on him!
The brother in Jeans and T-shirt smiled
They went to his room
The brother in Jeans and T-shirt held his
left hand and laid his hands on his left side
He prayed for him
He commanded the charm to lose its hold
Then the brother in Jeans and T-shirt pulled
him into a sitting position
He did it abruptly
It felt as if a load dropped off him
He was perfectly fine again!
WOW!
He got on his feet and started walking!
He was smiling and stretching
He was talking to everybody again
WOW!
The Brother in Jeans and T-shirt said
"Sit down with this woman and have
a talk with her! If possible take responsibility
for your child and relieve her pain!
She used what she knew
It was wrong but so were you!"
He promised he m=would make amends
The Brother in Jeans and T-shirt thanked
his parents and turned to leave
He said "Brother, I want to give my
life to Jesus! Please is this possible?"
The Brother in jeans and T-shirt led him
to Christ
He also got baptised in the Holy Spirit!
The seige was over!
PS: He met his son the same month
He was a fresh graduate of
Classical Studies and about to go
for his NYSC
He said he didnt want to meet the lady
physically because she might pull another
stunt like the first but he sent her some good
money to start a business
He returned to The United States in
November 2017
He returned to Nigeria in February 2018
for his introduction, engagement and
court wedding
By this time he had relocated from
New York to Chicago and secured
a job with a major courier service
He married the Pastor's daughter
In April 2019, his son and wife traveled
to be with him
GSW's notes: Demonic afflictions
are real
They mimic the symptoms of a sickness
They confuse doctors and render
orthodox medicine useless!
Most of the time, the patient dies
in the process of being treated medically
because he or she was not physically sick!
The name of Jesus heals the afflicted
The name of Jesus also heals the sick
So many chose to die rather than believe
in Jesus
Don't be one of them!