Fulfilled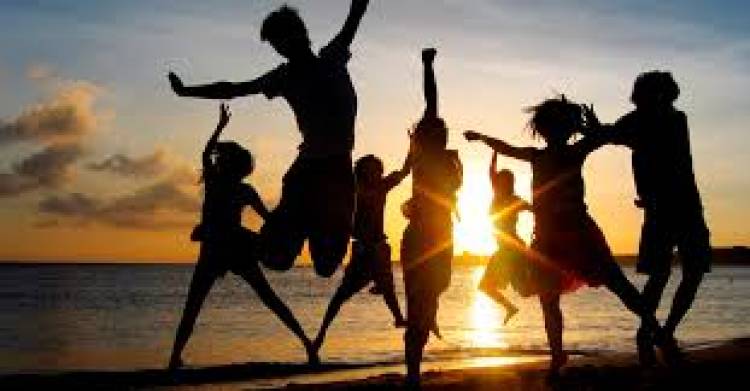 She was determined to give her husband a baby boy
The man had been an absolute source of joy for her
They met at their annual village festival
He was six years older than she was
He just got a job with the federal government
He was informed two days to the festival that his father had become critically ill
The doctors had given up hope
He couldn't sleep a wink all night
His father had labored too much over him
Even if the man must die, it must be in another twenty years
He had vowed that his father would never know a day of lack from the moment he got his letter of employment
He had just resumed that month when he was told his father was dying
He prayed all night
In the wee hours of the morning, while he was preparing to set out
He suddenly fell into a trance
He saw himself in front of his father's compound
His father's dead body was laid right in front of the house
He arrived at the scene and screamed in agony!
People held him and started condoning with him
He was totally broken
Then a man appeared on the scene
The man looked at him and the crowd
The man didn't say a word
The man walked to the row of coconut trees right in front of their compound
The man pointed at the tree right in front of their house
A bunch of coconut fruits slowly moved downwards from the tree
Until they were suspended in the air right before the man
The man pointed at him and motioned at him to pay attention
He stood up and watched the man intently
The man counted the coconut anticlockwise
He stopped at number four
He cut the fourth coconut out of the bunch
He peeled it
Broke the coconut and poured the juice all over his father's head
Then he poured some of the juice into his father's mouth
His father suddenly jerked to life
Everybody screamed!
He ran to hug his father
By the time he looked up to thank the man
The man had vanished!
He came out of the trance blinking like a doll
What had he just seen?
He told himself it means God had healed his Father
His father would live and not die
He rushed to the bus stop
The journey took him nine hour
When he got home, it was around sunset
He saw a crowd in front of his Father's house
Everybody fell silent as soon as they saw him
He walked through the crowd until he got to where they laid his father
Just as he saw him laid down in the morning
He could have cried as he saw himself do in the trance
But his heart was suddenly steeled!
He went into the house, dropped his bag and went to get a long ladder
He carried the ladder to the coconut tree right in front of their house
He used the ladder to climb the coconut tree
He saw the drooping coconut bunch right around the top of the tree
He counted anti-clockwise
He plucked the fourth coconut
He carried it down the ladder
Peeled the chaff and broke the coconut
By this time a huge crowd had gathered
They could sense a strange event taking shape and they wanted to witness its failure or its success
He poured the juice on his father's head and some on his mouth
He stood there looking at him
It didn't happen immediately as it did in the trance
He didn't faint for a second
He knew his father would live
His father did
It was not as ceremonious as he expected
It was the fore finger on his Father's left hand that twitched first
Somebody saw it
Then his father took a deep breath and opened his eyes
That was the moment he started crying
He received his dead Father back from the Lord
He didn't know how or why but it was the greatest gift God gave him!
She was there that day
Her family had returned home for the Christmas holiday earlier that morning
The village is sweet in the first few hours
Then boredom would set in
She was taking a stroll that evening when he saw the drama
At first, she didn't know what to think
But the moment she saw his crying as his father came back to life
She fell in love with him
He was all heart and love, pure bliss!
The next day she woke up very early and prepared a very good meal for five people
She carried the food to their house
She had been informed that the young man and his father were like best friends
After the death of the boy's mother through childbirth
His father had insisted on taking care of him himself
Family and friends made attempts at talking some sense into him
"You need a woman in your life to take care of this boy"
"You need a new wife"
"You need to father more children"
He turned deaf ears to them all
He was a farmer and he trained his son up to university level through ceaseless labour
She loved the story
When she knocked on their door
He was the one that opened the door
She didn't know she would suddenly become shy and red in the face
Though it was early in the morning
He saw her reaction and tried very hard to make it easy for her
She introduced herself and told him she figured they would need the food
She was right!
He thanked her profusely and she left
Since that day she brought them food every morning
It was a subtle way of telling him how she felt
And he got it
A week later he came by their compound to say thank you
He met her people and sang her praises
He called her "Heart of mercy" in their language
Saying that while others were contented with the story about his dead father's return from the dead
She was the only one who knew the man could die of hunger if such a critical need was not met
They became an item
Two years later he married her
She was by then a certified teacher
They had a set of twin girls
They were transferred to another state immediately after she was born
Then she had another child, also a female
In their community, a male child was everything
He didn't have a mother who would heckle her like other wives in her shoes
His father loved her like a daughter
He loved her like she was his twin sister
He was the very best husband in the world
He deserves to have a son
A boy he would train to make another lucky woman happy
His own flesh and blood
His scion
She got pregnant again
She begged and begged and pleaded to God
"Please give me a son, just one"
When she delivered the baby, she delivered another beautiful girl
Her husband was over the moon with joy
He told her he was satisfied with four children
He didn't want any more
She wasn't satisfied
She didn't want to argue with him
Weeks after she delivered the baby
They went for family planning
She participated grudgingly
The daughters God gave them were great
They didn't give them any problem as children and they were brilliant
Her husband treated them like little angels
He delighted in their presence and they delighted in his
The day her third daughter clocked seven
The pastor they invited to pray for her gave her a prophecy
He said "I see new children in this house"
Her husband laughed, she laughed
They both felt the young minister was just throwing words in the air
She had gone to three doctors to seek their medical counsel
She wanted to undo the family planning and have another child
She had not seen her menstrual cycle in many months and she was worried
The gynecologist told her bluntly
"Your womb cannot hold another baby, thank God you married and delivered your child early, you have polycystic ovary syndrome, you are most likely not going to have another child"
The news stunned her
As much as she tried, she couldn't keep her sorrow from her husband
He empathized with her but expressed his satisfaction with what God had given him
Five months after the young pastor came to their house
They were transferred to a state very close to their village
They were happy because it was likely they would be able to put down root and settle in the state
They forgot all about the prophecy
But the young pastor wrote it down
He knew what God told him and he was sure it would come to pass
Four years later, one of their daughter's got very ill
They rushed her to the hospital
While the doctor was attending to her 11-year-old daughter
She suddenly felt dizzy and fainted
They had to give her a bed beside her daughter
The doctors ran a series of tests
Her husband was beside himself with worry
After several hours, the doctors came with the verdict
"Congratulations, your wife is pregnant"
What!
She still had her family planning on and the whatchamacallit cyst too
How come she was pregnant?
Seven months later
She delivered a set of triplets
Three bouncing baby boys!
They remembered the young pastor immediately and called him
He had become the brother in Jeans and T-shirt!
He honoured their invitation to name the babies
They were named Peter, James and John!
Ps: There are many readers who have hanging prophesies
Prophecies that sounded real and genuine but simply refused to come to pass
As you read this, I command the loaded cloud of prophecies to rain
I speak forth your season of prophecy fulfillment
No matter how long ago that prophecy was given concerning you
As long as it is from God
It shall come to pass this season in Jesus name