Kaboom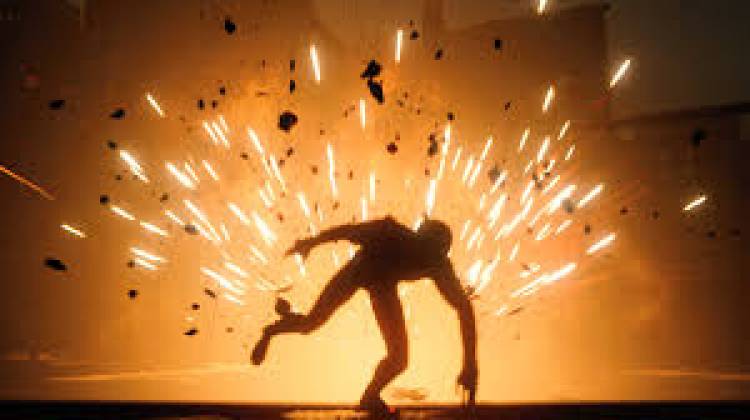 She was a member of the choir
She joined the choir because she had a
very good voice
She really wasn't Born Again
But she desperately needed the money
The church was offering the instrumentalists
and two lead
singers a good salary package
She was an undergraduate at the time and
she needed
all the help she could get
Her mother died when she was five years old
Her grandparents raised her
But having done the best they could
They couldn't shoulder the resources for her
University Education
They gave her the option of learning a skill
She chose Tailoring and was quite good at it
But for her, it was a means to an end
She was an egg head and couldn't take her eyes
off her dreams
She had always wanted to be a Lecturer
A professor with a PhD!
Since her grandfather told her what PhD meant
when she
was five years old, she made up her mind to
get one
And she talked about it often
So often that all those close to her knew that was
all she wanted
Her grandmother would tease her saying "Get a
husband before you
get a Permanent Head Damage! Miss P. H. D
But to get it, she had to dig deep
She sewed clothes and saved for three years
Then she gained admission into the University to
study architecture
at the age of 21
She was able to pay the fees and sort out her
accommodation
with her savings but she knew she didnt have enough
for the second year
So she started sewing on campus to keep the
income flowing
During the Christmas break during her first year
She went home to spend the period with her
grandparents
That night, around 1 AM, she suddenly felt a presence
in her room
Whatever it was held her by the neck and pinned her
down suddenly
She struggled and fought in vain
She was pinned down for almost thirty minutes
Then the "whatever it was" lifted and disappeared
It wasn't the first time
She first experienced it as a teenager
She told her grandmother about it
The next morning, her grandmother took her to a uniform
wearing church
She narrated her ordeal to the prophetess
The prophetess told her it was witchcraft at work
"They are testing you, making sure you got the message
that they can get to you at any time they want"
"But why? She wondered! Why would anybody want to
attack me?" She asked
"Wickedness needs no excuse to be itself, evil needs
no excuse to
be itself! Didn't your grandmother tell you how your
mother died?
"No ma" She answered
She had always known there was a mystery
surrounding her
mother's premature death but she was never told
the details
The prophetess laughed and said "You need to know,
so that
you will know that this life is not a joke"
Her grandmother told her the story while the prophet
watched
Her grandmother said "Your mother was 25 when
she got into
a nasty fight with one of our neighbours. They met
at the well
and the neighbour took a bucket of water which your
mother fetched
without asking for her permission
Your mother got angry and started cursing the "thief"
The neighbour took offence and they started
trading insults
It later resulted in a physical fight
People stepped in and tried very hard to settle
the issue
The two parties were fuming and angry
Two days later your mother screamed of a bellyache
in the
middle of the night
We rushed her to the hospital
They did all the scans and tests and everything
The result showed she was in perfect health
The doctors were perplexed, the nurses were
confused
We were advised to seek spiritual intervention
I came to see the prophetess and we started
praying
Then the prophetess started prophesying
She said the witches had taken your mother to
their coven and decapitated her there
She said your mother would be dead by sunset
that day and
there was nothing we could do to prevent it
The prophecy came to pass!
Your mother died by 5:05 pm that same day
A week after we buried your mother, the lady she
fought with came to see me
She said she and the association she belonged to were
still angry with my family and are prepared to kill you
unless I willingly offer them a substitute!
The option they gave me was to either join them and
become a witch
or hand over my womb to them freely!
I came to the prophetess and she told me to hand
over my womb
since I am not having any more children
That was the option I took!
Since then I have been battling with fibroid and other
health issues!
Witches are real and wicked
I want to advise you to stay far away from them"
That was the verdict!
Stay away from them!
Out of fear, her grandmother refused to fetch water when
others are fetching water
They wouldn't get involved in issues even when they were
being put at a disadvantage
That was how she coped until she left for school
But to return to the same reality at home?
She told her grandmother what happened to her that night
Her grandmother started shaking in terror
Her grandmother asked her if she has ever had such
an experience
before while in school
She said NO!
Her grandmother said "Since you only experience
this when
you come home
I will advise you to stay far away from home
I cannot afford to bury another child!"
And that was how she was banished from home
and kept
away from her grandparent's house by the fear of
witchcraft
Things went downhill when she returned to school
She was so depressed by the prospect of spending
Christmas alone in her tiny apartment that she
lost the will to do anything
She just sat there in her room imagining the
cruel death
of her mother as it was narrated to her and
crying her heart out!
On Christmas day, she decided to attend a
church close to her
house
That was when she heard about the vacancy
for a lead singer
She applied and was auditioned the same day
The job required her to sing on Tuesday evening
services,
Sunday services and attend choir rehearsals for
three hours on
Saturdays
She was happy for the extra-income
Being in church, singing and in the company of
people worked for her!
She had been in the church for three years when the
Brother in Jeans and T-shirt joined the church!
He was just a member at first but within a few months
he was made a minister
He was hot! Holy Ghost sizzling hot!
She saw him heal a stinking mad woman in rags
right in front of the church on a Sunday morning
She saw him lead services in an unusual way
Sometimes she felt the presence of God all around her
when she was around him
Then, they made him minister in charge of the Choir
The choir exploded!
Members of the choir began walking in the reality of
the Holy Spirit
Before long, some members of the choir moved on to
higher levels in life
But it seemed to her as if she had been left behind
She went to meet him on Tuesday evening after service
"Sir, why is the Holy Spirit so partial,
everybody has a testimony but me!
I try to sing with all my heart and God knows it
I am getting what it means to be a Christian now
But I still sleep in church and I am still plagued by
this strange feeling of fear that falls upon me
whenever I am alone!
The Brother in Jeans and T-shirt said:
"Are you born again?" She shook her head!
He led her to Christ and got her filled with the
Holy Spirit
The following Sunday, during the praise and worship
the Holy Spirit fell upon her so heavily that she couldn't sing
She was just speaking in tongues right on the altar
Nobody knew what was going on!
She was eventually led away from the altar and the
microphone given to somebody else
The next day, she packed her bag and went home
Her grandmother was shocked to see her
They had not seen each other in 39 months even though
they were both in the same city and wanted to see
each other
During this time her grandfather had developed a
strange eye problem
The very next morning, while she was going to fetch water
A woman accosted her screaming
"Leave my husband alone, you slut
Do you think I didn't see you looking at my husband
lustfully
Do you think I didn't know that you people meet
in hotels all over the city!
Prostitute! Cheap slut!! Leave my husband alone!"
Se looked around in amazement
She knew the woman, it was the same woman who her
mother fought with
The woman was in her fifties and so was the woman's
husband
The woman was a witch
It was because of the woman that she stayed away
from home for so long
And the same woman was accusing her of having
an affair with her husband!
The whole issue was very confusing
Her grandmother had told her not to fight anybody
She had always avoided having a confrontation
with anybody
She turned to go back home without saying a word
The woman touched her
That was it!
Without saying a word and with many witnesses gathered
around watching the drama
the woman fell flat on her face and began to roll on the
ground
"Help me o! Yeeeee!!! Fire! I am burning all over"
The woman was writhing in pain and agony
She turned and returned back home
She had her bath, packed her bag
Returning home was a terrible idea
She wished she had stayed away as her grandmother
instructed
Once she got ready, she went into the sitting room to
bid her grandmother goodbye
She met them there
The woman, her husband and other neighbours
A crowd was also gathered in front of the house
As soon as they saw her, they fell on their faces
"Please help us beg her, we are sorry, we are sorry"
Her grandmother was scared!
She thought they came to do her harm
But she told her grandmother to calm down
She said, "Yes, what is this all about?"
The woman said "We have offended you, we came to beg,
please set us free! Whenever we want to display our
power, we will pick a fight with someone in public
so that the fight will gather a crowd and then we will
afflict the person and kill him or her!
Everybody will relate the fight with the death
and fear will come upon the people!
That was what I wanted to do this morning
I didn't know it wasn't you, I didn't know!
Please have mercy"
She didn't understand what they were saying
She was also very suspicious and a little afraid
She said "Please explain, I don't understand"
The woman said "If you release us, we will pack away
from this environment! All of us, we will go! Please!
Just release us!
She didn't do anything to them, not a thing!
She didn't even know how to release them if
she wanted to!
She called the Brother in Jeans and T-shirt and
explained what had happened
He said she should put the phone on speaker
He said to them "Return everything you have taken,
once you do that, you are free to leave"
Then he told her to pray for them
She said "I release you in Jesus name"
They left!
As soon as they were gone and the crowd had
dispersed
She picked her bag and ran!
She didn't understand what happened or why
Her grandmother called her two days later
She said the fibroid she had nursed for years had
suddenly disappeared
and that her grandfather's eyesight had been
fully restored
Many people left the community that week
including five landlords!
The woman didn't make it
She died of bellyache two weeks after they moved
Things became quite easier for her after then
The atmosphere just turned and things eased up for
the whole community
Her Father who had refused to take responsibility
for her since she was born
Suddenly surfaced and paid for her education
She graduated in 2018
She met her husband to be and they have set a wedding
date for September 2019
PS: This event happened in Lagos in 2018
The spirit of dominion works in strange ways
When it is upon a man, his enemies would just throw
in the towel
David had it, Solomon had it, Jesus had it
Every believer has it! It was the reason they didn't
diminish when they were scattered abroad, they increased!
Stop cowering in fear and acknowledging that evil spirits
have power!
Matthew 28 : 18
And Jesus came and spake unto them, saying,
All power is given unto me in heaven and in earth.
Fact: There was no power left for evil spirits!
Jesus had all power and gave all power to me
and you! If only we would use it and walk in it
Dedicated to Hauwa Kuluwa Ibrahim, My sister, student
and adopted "daughter" who can only call me "Brother"!
she asked for a second story and I had to write!
And sister Doyin the minstrel whose testimony
I wrote with joy in my heart!