Meddlers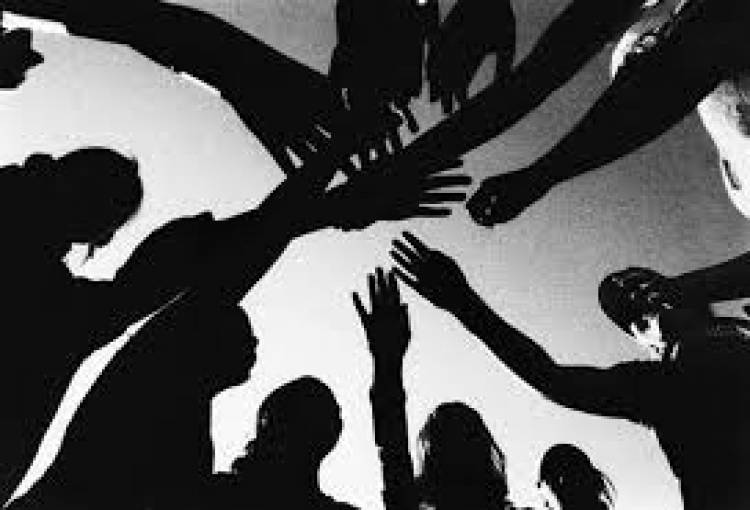 Meddlers

He was leaving the library for his room
When he bumped his uncle
His uncle was a lecturer on campus and instrumental
to his admission
His uncle told him he was going for old students
reunion meeting in OAU
He asked his uncle if he could tag along
The meeting was to take place from 9 Am to 12 AM the
following day
His uncle would be travelling later that evening and
lodge in a hotel until the following day
His uncle had always wanted to show off his alma mater
His Uncle told him to pack a bag and meet up with him
in an hour
They set out around 4 pm
He was finally going to meet the girl of his dreams
During an inter-campus fellowship meeting a few weeks
earlier
He met a lady, the Secretary of a campus fellowship
in Ile-Ife (Not OAU)
They exchanged numbers and he really wanted to explore
the possibility of a relationship with her
But he didn't know anybody in Ile-Ife
He couldn't afford to lodge in a hotel
So they had to limit their discussions to phone calls,
WhatsApp and text messages
He was really sweet on the lady
She would be his third relationship, but the very first
since he became a Born Again Christian
He had to do things properly
By the time they got to Ile-Ife, it was raining
They lodged in a hotel and he called her
She gave him her address, the time was about 7 pm
He jumped on a motorcycle, in the rain!
He was seriously wet when he got to her room
She was living alone in a one bedroom apartment!
Born Again Brother and Born Again Sister
She was 21, from the North, as deer as a dripping
chocolate
He was 23, from the South-west, a prized stallion
She gave him a towel to dry himself
He took off his shirt and asked for an iron
He ironed while they talked
She was there for the taking, no doubt about it
He saw all the signs and his knees weakened
but he steadied himself
He wanted to have a good report in his walk with
the Lord, the days of humping and grinding lustfully
were over
He dried his clothes and sat in a chair
She sat in a chair opposite him
He told her his intention
She just cried
She said "This is the first time I am seeing a
man who is decent and upright in my life!
I have been having sex since I was 13
I have never seen a man who would be alone
in a room, with a lady, he claimed to be attracted
to who would resist my moves like you did!
I saw you, you were hard! Your body was willing
but you smiled and acted as if it is nothing!
My former boyfriend would say, "When my third
leg is standing, it does not look at anybody's
face, it must hit that hole and drink!
How come you were able to control yourself?"
He didn't know what to say
They talked for a long time
The rain didn't abate
It rained cats and dogs
It rained mangoes
And then it poured!
He couldn't leave!
She made him tea and bread (He bought the
bread on the way to her house)
He slept on the chair while she slept on
the mattress
His uncle called him the next morning
He told his uncle he would catch up with him at OAU
They had breakfast together
It was a very great fifteen hours!
By the time he left, they were an item
His uncle didn't say much on their journey
back to school
He was in 300 Level at the time
Their relationship progressed on the phone
It was the days of free "Midnight calls"
They would talk for hours every night
Their love was as intoxicating as fine wine
He got to four hundred level
He invited her to a dinner party on his campus
She came dressed like his future
Her beauty made him giddy, her smile made him
sing with delight!
The dinner was a success!
After the dinner party, a guy came to him and said
"That was my cousin, are you guys dating?
See, if you are sleeping with her, you must
settle me, you cannot be entering that city
of gold for free!"
He didn't respond!
He really didn't know the guy
If she was really the guy's cousin, why
didn't he ask her?
Later that evening, he got a call from her
sister
"Hi, my name is so and so and I am the
the younger sister of your girlfriend, please,
as I am, I am broked o! I am very broked!
I have sent you my account number, please
send something to me and send me credit for
my phone too! Thank you"
He couldn't believe it
What sort of family did she come from?
Why is it that her family members couldn't
even wait until she introduced them to him?
He called her and told her what had happened!
She said he should ignore them!
A week later, her mother called him!
She said "I was told you are the one dating
my daughter and that you are so stingy that
you didn't give her sister a penny even
after she called you to ask!
We don't marry poverty in this family
we don't want anything to do with empty
pocket and excuse-filled trousers!
Leave my daughter alone, poor man!"
He was a student, where do they expect him
to get money from?
He thought about it for a long time and
came to the conclusion that he couldn't cope
with the pressure, members were mounting on him!
He called her and told her the relationship
was over!
She cried like a baby, he cried like a baby
They had been together for two years
They had grown together spiritually and he had been
a good example to her in his conduct and
lifestyle!
They shared everything he had, even though
he didn't have to do so
He celebrated her birthdays with her in her school
and treated her like royalty
For the first time, she was in a relationship
heading somewhere
"I will talk to my people, please let me talk to
my people"
He loved her so much, it hurt him to see her so
distraught
He didn't say anything
She rang off!
She called him back an hour later
She started asking him strange questions
"When did you say my sister first called you?
He wondered what the question was about,
he checked his phone and told her the date
Then she said "How did my sister get your phone
number?
He told her he didn't know
Then she said "Did you at any time call my
sister to ask her out? Did you promise to
give her 200,000 if she would come and
spend the weekend with you?
Did you tell my sister you love her?
He was shocked!
Is that the type of family he would marry into?
He cut the call and blocked her number
His initial anger had turned into an outrage!
He stopped talking to her
Her sister called him with a strange number
and cursed him for trying to come in between
siblings all in the name of love!
She called him a stingy pauper and a droopy
eyed fool!
That was the final nail on the coffin
The relationship was dead and buried
He had to forget all the feelings and the emotions
She was a bad market!
She realized too late that her sister and mother
were lying
By the time she reasoned things out
He was long gone!
It led to many days of tears and depression
But she moved on too
He graduated and was posted to the East
for his one-year national service exercise
He was posted to a local secondary school to
teach English
A week after he settled into his one room
apartment
He heard a knock on his door around 7 pm
He opened the door and there she was!
He didn't even know what to say!
She was right there, flesh, blood and all!
She said "I redeployed here from the North
where I was posted! My Uncle knew somebody who
helped me! I needed to see you! You broke up
with me on the phone! You were so different
on the phone, I felt it wasn't you!
I had to come and see you!
I had to look into your face one more time
You are the only man who made my life
worth living, and you dumped me! Just like that?
I had to come!
I know you will most likely throw me out
on my face but you taught me the love of Christ
in words and indeed!
Please show me that love and take me back!
You're my life, please, take me back!
(She sank unto her knees, crying)
He pulled her up and hugged her
She did nothing wrong
But marriage is not about the Bride
It is about the Bride and the groom and the family
He wouldn't be able to cope with her people
And he wouldn't dare cut her off from them
Blood will always be thicker than water!
They slept in his room that night
She wanted them to make love, to give a
part of herself to him in order to be sure
he had forgiven her
But he refused!
He told her he had nothing against her
But sex wouldn't sway him either way
He had to count the cost and be sure!
They spent the entire service year
together (Not in the same room! She moved to her
own apartment a few days after she arrived)
in that location!
It felt like heaven on earth!
Their family members were shut out and they
had a wonderful time growing on each other
At the end of the service year, the prospect
of living apart from her wearied him!
He proposed! She said yes!
They got married the following year!
But her family members were like a pack of
jackals!
They just couldn't mind their business
They had to talk about him and his wife
They had to criticize his every move and
move his wife to tears
His marriage didn't feel like a marriage
at all!
Her younger sister insisted he was irresponsible
and stuck to the story that he asked her out
He couldn't respond because she never said it
to his face
As much as he tried to keep away from them
and the way they do things, he always comes
up in their conversation
They refuse to acknowledge his space and his
boundary and his wife seemed completely
powerless to intervene!
After five years of strife and all sorts
of issues
He picked his shirt one day and left!
He had created an alternative reality for
himself on the social media for some time
A lady he made friends with on facebook
and talk to often
She offered peace and rest
Whenever he was with her he forgot the war zone
he called home
He took his annual leave from the office
and travelled to spend some time with this lady
He wanted to spend a few days, just to clear his
head
He switched off his phones and went dark
After a few days, he resolved not to return home!
He got a job with the logistics company in that
city and resigned his job
He left his car, his clothes, everything!
At first, his wife thought the worst
She went to the Police Station to make a report
But eventually, he switched on his phone and
told her he was not returning to her
His Blood Pressure had been a problem at home
But where it was, he was enjoying the fresh air
and his ears were not loaded with rubbish
everyday!
His wife reached out to the church, his friends
everybody!
This was a man of honour with a fine reputation!
The Brother in Jeans and T-shirt reached out to
Him
He talked for hours!
He said they were driving him to an early grave!
They have incessant needs that they expect him to
meet and they feel it is their right to leech him
to death!k
He said he was no longer with the lady he
went to be with!
Although they still see each other, he had
rented his own apartment!
He said the best he could do was meet the needs
of his wife and children
But He wanted nothing to do with his wife and
her family again!
His wife told the Brother in Jeans and T-shirt
she wanted a solution whereby she wouldn't lose
her husband to another woman!
The Brother in Jeans and T-shirt told her to pray
and do whatever the Holy Spirit asks her to do!
She prayed!
One month later, very early in the morning,
She got a haulage van and moved all their belongings
She drove the children to the city her husband
relocated to
The trip took her four hours by road!
They met him at home
She begged him and promised him she would
contain the situation!
He took her and the children back with joy!
PS: She had contained the situation since 2015
None of her relatives knows where she lives
They changed their phone numbers
She made sure her family members couldn't
access her husband directly
She communicates with her family members through
the old phone number once in a while
She said she had no regrets, it was what
it took to keep her home and her sanity
that she had to do
Her husband's family members didn't give her
a day of trouble
She would prefer that her children grow up to be
like them
She travels home once in a while and makes sure
whatever baggage there is stays behind as she
returns to her husband's house

Family members must stop!
Yes! Stop!!!
Respect a couple's boundaries
Stop shoving nonsense down the throat of your
daughter-in-law or Son-In-law
You devalue your child when you make yourself
an integral part of the marriage
He or she was not supposed to be
amalgamated after marriage
You are hurting young marriages
Please keep off!
Thank you!!!