The Confession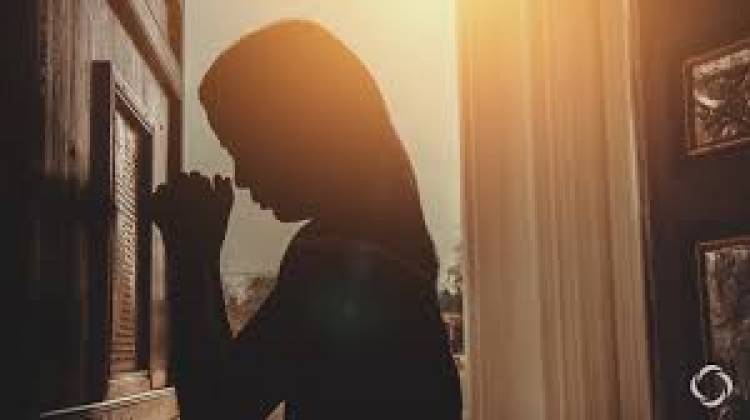 The first contact was at the mall
He was sitting down at the popular
Ice cream join located very close to the
entrance of the mall
A family came into the ice-cream joint
A man in a black suit, holding his car keys
Followed by eight children
EIGHT!
The oldest of the children was about seventeen years old
The youngest was about three years old
The man stood aside as the children made their order
The man didn't look rich at all
But the ice-cream the children ordered would comfortably
make the pocket of a poor man sweat a bit!
After the children had placed their orders
The man approached the waitress and ordered
three extra scoops of ice-cream
He turned to the children and said
"One os for your mummy, One is for me and the other
one is for your brother!
None of you remembered your brother
That wasn't nice at all!
The children felt a little bad at his reprimand
The seventeen-year-old especially looked down in shame
Five minutes later they got their order and
started to leave
He had been looking at them
weighing his approach, looking for an opening
All he wanted to do was preach the gospel
But he didn't want to approach them formally
He needed a Trojan horse
He prayed silently in his heart
"Father, please give me an opening to speak
with this family, grant me utterance"
Just then he saw the opening
The youngest of them had dropped her toy while
trying to hold her ice-cream properly
He took the toy and rushed outside the mall
He saw them boarding a mini-bus
The man was already behind the steering wheel
The seventeen-year-old was waiting for the others
to board ahead of her
He got to the bus and approached the man
He greeted him politely and handed over the toy
While doing this, he was able to look beyond the
man into the bus
That was when he saw them
The man's wife and the ninth child
The child was about eleven years old and was
on lying down on his black and acting very odd
He turned to the man and said
"Can I pray for your child, I am a Christian
and I believe Jesus can heal this child!"
The man smiled!
Before the man could respond, his wife said
"Please come around here sir and pray for
him we need all the help we can get!
That was the invitation he was waiting for
He ran to the side door and jumped on the bus
He suddenly became nervous, his hands started
shaking
He took a few seconds to calm himself down
Then he laid his hands on the child and said
"I command this body to receive the anointing
of the Holy Spirit for divine healing right
now, I command the muscles, nerves, ligaments,
skeletal structure, nervous system, every part
of this body to be healed right now!
I command you to rise up in the name of Jesus
and be made whole!
His eyes were wide open as he looked at the
child!
He expected a sudden reaction, something
spectacular, a rush of the wind!
Nothing like that happened!
The child continued to look at him, like,
"what is this one doing?"
It wasn't working!
He tapped the child playfully on the head and
said "I had to try and see if the name of Jesus
will work for you. It always works on those
I try it on, especially for healing!"
He alighted from the bus and waved the man and
his wife goodbye
He was almost back in the mall when he heard a patter
of feet behind him
It was the seventeen-year-oldFni
SHe said her Father was calling him
When he got to the car, he was hoping the child
had been healed but it was not so
The man offered him an envelope with some money
and his business card
He said "That was the first time I saw somebody
touch my son willingly and lovingly outside
of our immediate family! You talked to him
as if you were talking to someone who was not
sick! Thank you!
He declined the money but took the business card
He also gave the man his phone number!
He continued to pray for the family
even after their meeting at the mall,
he had laid his hands on the young man and
proclaimed the name of Jesus upon him
He couldn't in good faith, believe "nothing"
happened!
The name of Jesus is not "nothing"!
He had seen the name at work on many occasions
Two weeks later, he was taking a nap at his desk
in the office when his eyes suddenly opened
He saw the eleven-year-old child he prayed
for walking normally and praying normally
Then he saw his mother remove his real legs
and wooden legs in the place of the
real legs
He also saw her change the boy's hands
and neck
And then the child looked exactly like he did
when he was prayed for on the bus!
He called the man immediately and booked an
appointment to see him
The man told him to come to his office
He went to the man's office the following day
The man was a strong adherent of a religion
and didn't want anything to do with Christianity!
He asked the man to tell him about his wife
The man said he was married with five children
when he started dating his wife
His wife used to be his secretary
They started having an affair in the office while
he was still married
There was nothing illegal or sinful about the
relationship because in his own religion
he could marry as many wives as he could be fair
to in one lifetime!
But he had made a special promise to his wife
not to marry another wife!
Ho often drummed this into the ears of his
secretary as they grew into each other
The affair had been going on for over two years
when his secretary told him she was pregnant
The pregnancy forced his hands to marry her
The moment he told his wife, his wife fainted
She never recovered from the news
She fell ill and was in and out of several
hospitals until she finally died
By the time his wife died, the pregnancy was nine
months old
He buried his wife and told his secretary to wait
a little until it is appropriate for him to
marry another wife
A week later, she delivered the baby and the
doctors said the baby had complications during labour
which led to the cerebral palsy!
Since then they had been nursing him
They had three other children who are perfectly okay
The man said they had done everything they could
medically in terms of physical therapy, occupational
therapy and speech therapy but the child was not
responding to any treatment!
The man took him to his house afterwards
They got to the house around 4 pm
While they were waiting for the gateman to open the gate
He heard running footsteps in his spirit
The Holy Spirit said "That is the boy running in the
compound"
They alighted from the car and the man took him inside
He saw the man's wife and the child!
He said to the wife: Why are you doing this to your husband
and this child?
The wife: What am I doing?
He: This child is normal and you keep him in bondage,
replacing his normalcy with abnormalcy! This is wickedness!
The wife looked at him and said "I don't know what you
are talking about"
He smiled and bent down towards the child
Suddenly, he grabbed the wife's left hand and said
"In Jesus name, I command you to confess"
The wife said "I know my husband, I know he will get another
secretary and marry another wife! I asked him to make
the same covenant with me that he made with his first
wife never to marry another wife while we were still
together! He refused, saying he will never make
that mistake a second time!
I didn't know what to do!
I just couldn't stand having a rival!
So I decided I have to keep my husband's attention
on other things
We checked his star and realised he had a weakness
for the weak and invalid and decided to exploit
that weakness!
If he had a child he had to care for specially
He would be too preoccupied to cheat on me
Everything I did, I did to keep my home
I have treated his children and mine with love
and dignity
Ask anyone of them, they will tell you I have
been a good mother to them"
Brother in Jeans and T-shirt: So where are his legs, arms and neck?
She: I cannot get them anymore, I used them to get my crown
among my mates in my kingdom!
He laughed and said "Whenever you are at home alone
with this child, he plays around like a normal child!
Even this afternoon, just as we were at that gate
he was still running around but by the time we
alighted from the car he was back in this state!
Is this true or not?
She: It is true but I borrow the legs and arms and neck
But I borrow only as a mirage, the real thing
had rotten years ago!
Her husband couldn't believe what he was hearing
The Brother in Jeans and T-shirt smiled
He laid his hands on the child and said
"I restore you back to normal now!
I command supernatural restoration to you
Your legs and arms and neck and speech are restored to
you in Jesus name!
Get up now and be normal again!
Just like that
The eleven-year-old boy stood on his feet and
began to run!
Have you initiated anyone in this house into witchcraft?
The husband asked her
She "No, I cannot take them, my initiate is a
blood initiate, I can only take my blood! my mother initiated
me and it was with my consent!
Her husband: What about your own children?
They cannot be initiated until my tenure as
queen is over! No! They are not Initiates yet!
Her husband: What about me, what have you done to me?
She: Nothing! I was not doing this to destroy you
I did everything to protect my home and keep your attention!
The Brother in Jeans and T-shirt: Do you want to
leave these initiates and come to Jesus?
She: Yes!
The Brother in Jeans and T-shirt laid hands on her
While they were praying, there was a power surge
All the bulbs in the house broke and all the electronics
packed up
She was delivered!
Her husband also gave his life to Jesus
All the children gave their lives to Jesus
The cloud of darkness was broken forever by the light!

PS: Their family was liberated in 2014
They went on to have two more children (Making eleven)
She became an evangelist with fire in her bones
He became a soul winner who sponsors mission work
Do not disobey that heavenly vision
When the Holy Spirit sets us on a trail
He has a set purpose in his heart
Pray, act, do and keep tracking the word
The fruit thereof will be the tree of life
This event happened in Ikeja, Lagos
The young man who was delivered now lives in Atlanta
If the son shall set you free, you shall be free Indeed!