Twin Dragon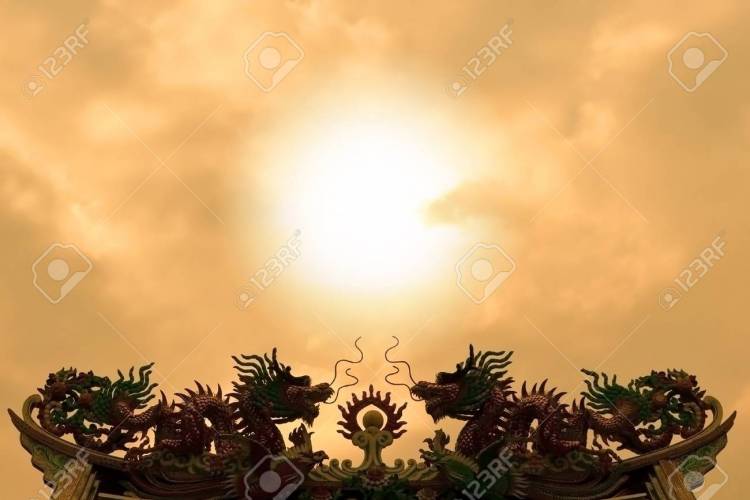 Their mother had them in Epe
A community in Lagos state very close
to the Lagoon
She had been in the labour room for three
days, groaning and pushing to no avail
The doctors were at a loss over what was
going on
The nurses had started gossiping that
the child might be a bastard
She couldn't blame them for thinking
so
They see a lot of strange things in the
course of discharging their duties
The day after she was admitted
A young lady whose marriage was
just a year old also went into labour
The birth was impossible and the
doctors were already contemplating
saving the mother or the baby when
her husband arrived with an elderly
man
The Elderly man told the young man's
wife that if she didn't confess who the
father of the baby was, she was
going to die
The elderly man told the nurses, it was
their family's covenant with whatever
demons they were worshipping
No bastard will make it into their lineage
alive!
The lady confessed and within fifteen
minutes she delivered her baby!
Of course, the marriage was over
right from the hospital
The baby belonged to another man
The man arrived the following day
He was the driver to the lady's husband
It was a scandal and it fed the narrative
around her predicament
She didn't know why her babies wouldn't
just come out
She had cried and screamed and pushed
to no avail
Her husband eventually got tired
He called his parents
His parents went for a consultation with
their local juju priests
The consultants told her husband's parents
that they must bring her to the village
immediately
Her husband discharged her from the
hospital and rushed her to the village
When she arrived, she was given some water
to drink, she later learned it was the water
from the lagoon
A few minutes later, she delivered her babies
Two Identical boys!
She was in the village for another two weeks
A lot of things were done for her babies
by the spiritual consultants
Eventually, they were "discharged"
When they got back to Lagos, things became
very tough
The babies were always sick and crying
The hospitals had no clue what was wrong
with them
But once they took them to the village
and bathe them with the water from the
Lagoon, they would sleep and act normally
It was a crazy experience
She spent more time in the village than
in the city because of her children
She lost her teaching job because of the
twins
The twins took everything!
Luckily, they grew fast
But they didn't grow the way she expected
They were wild!
They started killing lizards, rats and other
rodents at the age of six
They would compete all day trying to outdo
each other in everything
Everybody called her a bad parent
But none of them had evil children
Her twins were evil and she knew it
They would inject rats with petrol or
douse rats with petrol, release the rats
and then set their trails on fire
They took fun in destroying things and
inflicting pain
They were hunting snakes, alligators and
all sorts at the age of eight
As they grew older, their imagination ran
wilder and wilder
They killed chickens that strayed into their
compound for fun and incurred the wrath
of many neighbours
One day, they both jumped from the balcony
of their three-storeyed building into the
giant waste container outside the fence of
the house
The whole community feared they had died
They survived and even came out of the
waste dump laughing as if they won a jackpot
They were fearless
They were unruly
They were unteachable
Her husband was a sailor and he had to
cope with the twins alone
They made a mockery of her "disciplinarian"
mindset
There was nothing she did that could
curb them
It was as if she gave birth to demons
She reported them to her younger brother
when they turned thirteen
She found out that they had started luring
girls into the house after school
and were brazenly sleeping with them
She caught them herself
She didn't know the kind of spirit that
was in them
It was not human
Her younger brother came to their house
on a Saturday morning with ropes and
whips
He tied the two of them to poles and
flogged them mercilessly
She was past caring whether the lived
or died
She just wanted them to change
Three days later, her younger brother's
shop (He was into the repair of fridges,
deep freezers, Gas cookers and so on)
Suddenly caught fire
Everything was born to ashes
Her younger brother was asleep in the shop
when it happened
He survived but he had major burns all over
his body
She was at the market when it happened
She rushed home immediately after she heard
of the incident
She met her children quietly watching Voltron
when she got home
But she knew it was their doing
She took them to the village the following
week
She needed a break badly
They had hardly spent a month in the village
when they were returned to the city
Their grandparents reported that they
went to the river in the evening to harass
the village girls while they were fetching
water
They stole out of the house in the middle
of the night to hunt snakes in the forbidden
forest and they came out of the forest alive
with many dead snakes
The gods were scared of the evil twins
They were a big problem!
When her husband arrived home on leave
she told him everything
His parents also filled his ears with tales of
the children's misadventures and how many
people have sworn to kill or maim them in the
village
Their father decided to relocate the family
to the UK
He was so sure they would make something
of their lives in a more structured society
He got them all their travel documents
They left for the UK
They were sixteen years old when they got
to the UK
It took some time to settle them into schools
and all
There was a very limited room to exhibit
any form of madness
It was a country of law and order
Somehow, dramatically, the twins settled
down into normal life
It almost made their father doubt all the
reports he heard from their mother, his parents,
friends and relatives
He had anticipated a tug of war but there
was none of that
The change of environment did the trick
Within six months after they settled in Liverpool
A strange sickness came upon the twins
Their skin started peeling off their bodies
it was messy and painful
Sometimes they sat home all day unable
to do anything because of the pain
They were taken to the hospital
The doctors were baffled by the affliction
The twins were sixteen at the time
Already a year behind their mates in
the academic calendar
Their father called home and spoke to
some elders
He was told that the children belong to
the lagoon and the lagoon was angry they
were taken far away
Their father asked the consultants to give
him an alternative
He simply didn't want the twins returning
to their vomit
They had to stay in the UK
The elders told them a sacrifice would have
to be done
They would prepare an appeasement offering
and present it to the Lagoon
Their father sent the money
The sacrifice was done
A week later, the twins were healthy again
Everything was back to normal
The sacrifice was successful
Wow!
Their mother got pregnant again
She had a baby girl
The twins gained admission into the University
The very week they were supposed to resume
they both started screaming in the middle
of the night
A strange headache
Their parents rushed them to the hospital
They used all sorts
Nothing worked
The pain was too much
Their father called the elders
The elders told him, the Lagoon was asking
for his children
The twins must return home or die
The Lagoon has refused all entreaties!
Hmmm
Their mother started running to churches
and spiritualists
There must be an alternative
She ran around for two weeks
From London to Kent, to Birmingham and
Nottingham
Prophets, apostles, pastors, and seers
She went to as many places as she could
She was given oil, water, coconut and so on
Nothing worked
The twins took a turn for the worse
They started acting as if they had lost their
minds
Talking to themselves, pulling off their hairs
and mutilating their bodies
They were transferred to the psychiatric
hospital
Doctors started prescribing anti-psychotic
drugs to them
Their father gave up and bought their flight
tickets back home
It was a choice between the hippopotamus
and the crocodile
He had to choose the lesser evil
and hope for the best
A family friend sent him the phone number
of the Brother in jeans and T-shirt
He called and explained his predicament
The brother in jeans and t-shirt told him was
not as difficult as he thought
The twins belonged to the Lagoon
The Lagoon had the authority to do whatever
He desired with them
The Lagoon chose to afflict them with headache
and madness
The lagoon wanted then to know who the boss
was
In the same vein, if he gave his life to Christ
And his wife and the twins also gave their
lives to Christ
The Holy Spirit will supplant the Lagoon
There would be an instant translation
Darkness will give way to light
The twins will be free from the clutches
of darkness
Their Father told the brother in Jeans and
T-shirt all the evil things he was told the
twins used to do
He wanted to know if God can forgive his
sons and save them
The brother in jeans and t-shirt told him
God saved Saul of Tarsus, despite his sins
and participation in the death of Stephen
Their Father got it!
He gave his life to Christ
He got baptized in the Holy Spirit
The brother in Jeans and T-shirt told their
father to go straight to the hospital and
lay hands on his sons
He did
They commanded peace and restoration
Two days later, their father called
The twins had fully recovered and they
anted to give their lives to Jesus
The Brother in Jeans and T-shirt was
honoured to share the gospel with them
and get them filled with the Holy Spirit!
The translation was complete
The Lagoon's hold was completely loosened
A new Sheriff took over
Hallelujah
Ps: It's been three years
Kayode and Koyejo are plus one today
The Holy Spirit has transformed their lives
completely
Kayode is a cell leader in his campus fellowship
while Koyejo is a youth pastor with a renown
pentecostal fellowship
They are both residents in the United Kingdom
GSW's notes: You are slaves to whosoever
you yield your members to
If you believe you are owned by a stone
or a tree, then your reality will be affected
by your belief system
If you believe in Christ, your liberty and triumph
over all things will become evident
Do not be a slave when you could reign
Those of us who have received the abundance
of grace and the gift of righteousness are
reigning right now!!!!
Will you join us?
Will you reign in Christ with us?