Worst Enemy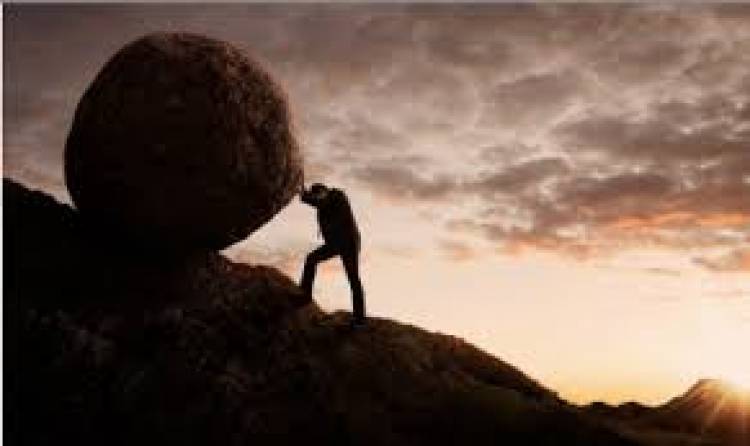 She had nothing good to say about anybody or anything
She had a box load of depressing stories
Village people have decided to finish her
Village people followed her to the country she resides in
Village people have decided she would never make it in life
She had all her misfortunes filed in alphabetical order
She does not mix them up
If you give her a listening ear
She can spend six hours itemizing all the troubles she had faced in her life
She graduated from the university 12 years ago
She got born again right after then
She heard a lot from the Holy Spirit in those early days
She spoke in tongues until her tongues literally caught fire
When she decreed anything it became law
Her Father's landed property that was in court was released unto him at her word
Her elder brother's childless situation was reversed at her word
She became a sort of go to person for spiritual consultation
It was as if she had a gold dust on her head
She heard and spoke as the oracle of God
Her mother's cancer dried up at the touch of her hand
Then she decided she needed to further her education
She chose a difficult country where scholarships were very scarce to get
She put her tongue of fire to work
She skabashed by night and decreed by day
She was not only given the country's visa on a virgin passport, she was also offered a full scholarship
Everybody knew the Lord was right in her corner
Her father would say to his friends "Let so and so pray with you on that matter"
She was an oracle of the Holy Ghost
Then she travelled
Everything went smoothly
She did her registration
She joined a fellowship
She became a worker
She was burning for the Lord
The one prayer she had prayed for many years was for God to settle her maritally
She waited for a sign
She waited for a dream
She waited for a still small voice
She waited for a vision
She waited for a word of knowledge
She waited for a prophecy
She clocked 30
Nothing!
She decided to go and see a prophet
The prophet was imported from her country to minister in a church
The prophet told her her man would come within 21 days
She believed!
Miraculously a guy approached her the very next day
He was from Jamaica
They became fast friends
But the guy is not a church kinda guy
He had no problem with her being religious and all
He just wasn't cut out for it
She loved him so much!
She hung out with him at every opportunity
She practically stopped attending fellowship
She saw the love he had for her in his eyes
He loved her with the whole of his heart
They kiss and cuddle and snuggle often
She was not a child and she knew how these things go
She waited for six months before they started having sex
She didn't know sleeping with him would have such a devastating effect on her spiritual life
It felt as if he knocked the Holy Spirit out of her consciousness
He became her joy, her song, her peace, her everything
Plus regardless of how much she tried to convince herself that sleeping with him was not a sin
She felt very guilty sleeping with him and it affected her fellowship
But she shrugged it aside!
Sh had gotten what she wanted!
She has her degree and her man! Hurray!!!
Then he left her abruptly one morning
She thought he was going to his house to pick something
She never saw him again
Upon inquiry she discovered he had been in the country illegally and had been arrested and deported
Jesus! They were already talking marriage
She decided she would have to relocate to Jamaica to be with him
She tried everything to get across to him
She eventually got a Jamaican phone number to call
His wife picked!
He was married with three children in Jamaica
That was the day humpty dumpty scattered
She cried like Lake Chad
Until the water ran dry
She was angry with God!
Why would he promise her what belonged to another?
She was angry with herself for not doing her due diligence
She was angry with the Holy Spirit for keeping quiet while she lost her way
She fell ill for a few weeks
She lost her job in the process
Nothing has worked since then
No job, no joy, no peace, no hope, no health, no fulfilment
She had gone to many churches
She had cast out many demons and imaginary enemies
She had met pastors, prophets, priests and seers
She had almost become a nuisance everywhere
Nobody listens to her tale without getting depressed
She simply couldn't kick on from there
Many tried to help her
Find your way back to the Father
Rekindle your relationship with the Holy Spirit
Leave this painful episode behind
She would listen and say "Yes, that is what I will do"
But when you speak with her tomorrow, she will be back to the same old tale
She will tell of how the enemy has turned her glory to shame
It was as if she was stuck
Her own worst enemy!
PS: Move on!
The prodigal son was smart
He came unto himself and returned home
He didn't go to spiritualists to compound his problem
He went back home!
Go and read the story of Kathryn Kuhlman
She made mistakes too in terms of relationships
She simply moved on!
Don't assume the Holy Spirit will come apologizing to you
It doesn't work that way
If you made decisions that took you away from fellowship with the Father
Make decisions that will bring you back into fellowship with him today
His arms are open wide
Come home today!