Delay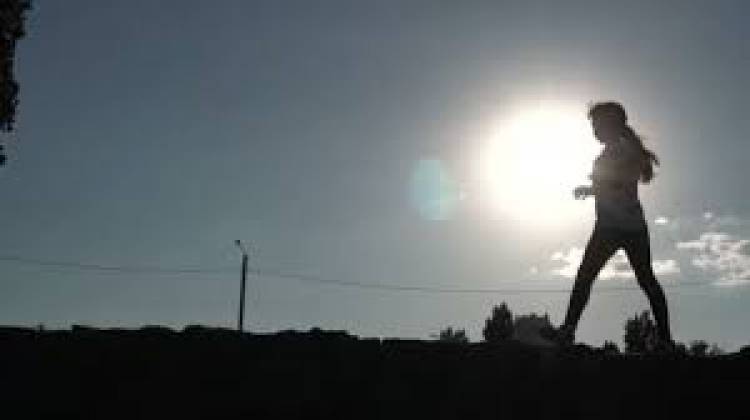 Delay
Her parents were fanatics
Those sleep not, eat not, drink not, wear not, nuts!
They made her life hell!
She was the third of six girls
Her parents wanted a boy so desperately that they had to put up with three more
children than they planned to have just to get him
The boy was the seventh child
And just to be sure his birth wasn't a fluke or/and as an insurance policy
in case something happened to the boy they had an eighth child
Another boy!
Their father was a good provider
He worked in the printing and publishing industry and specialized in publishing Bibles
He had a contract with a particular missionary organization and made a good living out of his job
Their mother was a typist
She later became a computer secretary in the civil service
Financially, her parents had more than enough
The only problem with her parents was the devil
They were so devil conscious, they practically forgot how to be human!
Their church had a big role to play in this
They preached and demonstrated attaining spirituality through carnality
They were determined to live a holy life in order to see God
In living a Holy Life, they shun every "device" of the devil
No television, No marriage to anybody outside of their church,
No Internet, No relationship, friendship or interaction with the world
No medicine, no hospitals, no music except in church, no dancing at all
Her parents had no problem setting good examples for them
Her siblings seemed very okay with it
But she had adventure in her soul
She had mischievous brain waves all the time
She also sings all the time
Music makes her happy
The only thing she enjoyed about their church was the music
They taught it systematically and professionally
The music was so good, it made her believe in God
But every other thing didn't settle down well with her
She hated all the rules put together
She struggled with a life without colours when all she saw in her heart were colours
At thirteen, she discovered the devil in her own body
Nobody taught her, nobody introduced the devil to her
She was lying down on the bed, daydreaming about a boy in her class and BAM!
The devil showed up right there
Her whole body tingled with every thought, her nipples hardened against her bra
She was wet, moist, her toes were wriggling of their own accord
It felt silky, milky, smooth
It felt so good!
She touched its source, the source of the wetness
It felt even better
That was how the devil fed her the fruit
She introduced the fruit to her immediate younger sister
Her sister resisted at first
But the devil was persistent and the taste of the fruit cant be contained
Before long they were the perfect partners
Experimenting with all sorts
It even felt better that they could do it right under their parent's noses
"The Stiffs" as they came to refer to their parents were like aliens to them
They take delight in making the life of their children miserable
All they had for entertainment was read and practice music
And it wasn't as if they dont know what a television was
They see televisions and computers in school and at every other places but their house
Somehow they knew that if their parents found out what they had been doing
It would be equivalent to growing horns and wings and flying about the house
They tried to be very careful
They were so careful that none of their siblings noticed anything
After all there was nothing strange in two sisters sharing a bed!
But they could only be careful for so long
Somehow their parents found out one night
They were both under the blanket doing the unthinkable when the blanket was suddenly yanked off
It was the worst sight ever for their parents
Their mother looked so horrified at the sight
Their father was literally trembling
Life stopped for a few days
It was as if somebody died
The following week, their parents brought two travel bags home with each of their names on each
They were enrolled into different secondary schools
It was the best their parents could do under the circumstances
Their house mistresses were informed of their "Sinful" ways and aked to pay special attention to them
It was too embarrassing for her
It was like putting strangers under her clothes to see what was going on
She pretended all was well but loathed the exposure
She adjusted to the boarding school, made new friends and moved on with life
The student union fellowship in the school was very strong
She joined after a few weeks of trying to do "No religion" to no avail
After the first four meetings, she received the baptism of the Holy Spirit
WOW!
Everything suddenly made sense
She discovered God
Not the one her parents tried to put into her methodologically through religion
The one who made the heaven and the earth, her God!
She fell in love with the book of John
She was transformed!
Her younger sister on the other hand moved from scandal to scandal
She was expelled from two schools for lesbianism
Expelled from another for sleeping with a boy at the back of the library
Nothing seemed to work for her sister
Counselling, therapy, religion, church, God, her parent's tears, appeal, flogging, Nothing!
By the time her sister finished her first degree
She had, had six known abortions
It was as if her sister was on a mission to self-implode!
She graduated from the university with a first class in Mass Communications
Her sister graduated from the university with a third class
Barely had her sister finished serving when suitors came calling
Their eldest sister was 27 at the time, a virgin and she had a good job
Her sister was 21 and "damaged", without a job
Their parents asked her sister what she wanted
She didn't bat an eye
She wanted to get married and leave the religiously choking environment
Her sister got married
That same year, her sister delivered her first set of twins!
It took another three years for them to have another marriage in the family
Their eldest sister finally married at 30
Six months later she and the second child of the family got married the same day
It had all ended in joy for her parents
Despite the rocky ride, they had successfully navigated their children into marital bliss
She married a good man, a strong believer and a tender lover
Everything a woman would want in a man
And yet she had waited for six years to have a baby
She had checked herself, confessed her sins, sown seeds, made vows
All her other sisters had given birth to healthy children
She was the only one among them who was Born Again and full of the Holy Spirit
Was it that she wasn't supposed to get Born Again?
Why did it seem to her like God was answering the prayers of the religious,
carnal and worldly ones and punishing his own beloved child?
What was she doing wrong?
That was the question on her lips
Where did she miss it? How did she offend God?
Was I cursed or afflicted by the enemy in any way?
The brother in Jeans and T-shirt told her delay in conception was never from God
"When you experience delay of any kind, do not look at God or yourself as the cause.
GOD DOES NOT SOW TARES
GOD DOES NOT USE CURSES TO CHASTISE HIS CHILDREN
YOU WERE BLESSED BECAUSE YOU ARE THE SEED OF ABRAHAM, NOT BECAUSE OF YOUR ACTION
PRAY IN THE HOLY SPIRIT
LAY YOUR HAND ON YOUR WOMB AND SAY
"DOOR OF DELAY, I COMMAND YOU TO BREAK RIGHT NOW IN THE NAME OF JESUS,
MY REALITY CANNOT BE CONTRARY TO THE WORD OF GOD
I AM FRUITFUL, I MULTIPLY AND MY FRUITS ABIDE IN JESUS NAME
AMEN!"
He prayed with her and for her
The Holy Spirit did His wonders
She delivered a baby girl one year later!
PS: If you think you earned your salvation
You will think you can keep it by yourself
You will also think you are earning all the good seasons
And you will claim responsibility for the bad seasons
Salvation for you will no longer be a free gift
You have legalized your faith
Stop thinking this way! It is the way of the pharisee!!!
I break every yoke of delay in your life
Marital delay, employment delay, manifestation delay
Career delay, conception delay, dreams and aspirations delay
I command the door to your fruitful season to open now in Jesus name!
Your reality will not be contrary to the word of God!
Be fruitful and multiply now in Jesus name!
I pray for all the ministry partners of gbengawemimo.com
God who called you and instructed you to support us shall supply all your needs
according to his riches in glory by Christ Jesus! Amen.