Entitled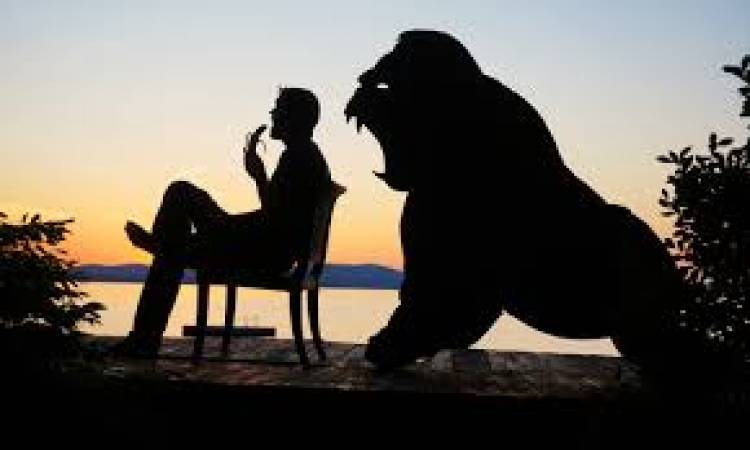 There were seven of them
The first, the first set of twins,
the second
set of wins and the second set of twins
followed by a boy and then another boy
His mother wanted a girl
She was desperate about having a daughter
His father was a medical doctor
He was also the heir to the throne of the
traditional stool in their village
Having a lot of children is not unusual for
royalty
Having a lot of male children is natural in
their family
Not having a daughter was a reality his
mother could not stomach
His father called them the gang
His mother gave birth to all of them
within the first twelve years of her marriage
Then she died mysteriously
The first son was eleven years old when
their mother died
He was one of the second set of twins
The fourth son!
But he was the only one born with a
disadvantage
He had esotropia, both his eyes were
turned inwards
He also had issues with his legs
One was shorter than the other
and this led to a constant back pain
He also had dyslexia
(Dyslexia is a learning disorder that
involves difficulty reading due to
problems identifying
speech sounds and learning how they relate
to letters and words (decoding).
Also called reading disability, dyslexia
affects areas of the brain that process
language)
His father was very successful and rich
He gave them the very best care money
could buy
But he was always the one at a disadvantage
He repeated classes over and again
His twin brother was extremely intelligent
His other siblings were brilliant
But he couldn't cope
He hated school
His father got him admitted into a special
school where his disabilities were factored
into his education
But he didn't like it
He didn't like the fact that he was different
He wanted to do what the others were doing
When he couldn't he sulked
When he got scolded for sulking, he sulked
some more
He also had a very violent streak
He was always conscious of people's
looks, comments and disposition towards him
It was because of his situation
He felt people looked at him as a sort of
failure
A sort of imbecile
His father didn't seem to mind
Thus also made him angry
His father should be giving him special
attention
Not treating him like he was okay
He wasn't okay and he needed to be
compensated for that!
He hated the fact that he couldn't play
football with his brothers
He was always watching and clapping
Nobody chooses him for their team
whenever he insisted on playing
He had to throw tantrums to get on the
field and then he would end up being a
useless baggage during the game!
As he grew his discontent didn't grow
any better
His father married another wife after
five years of coping with them with the
aid of nannies and relatives
The new wife and her father moved into
a smaller house his father built within
his compound
The main mansion was left for them
The last son of his mother was seven years
old when their father remarried
Soon enough, the new wife had her own
children
This made things quite worse for him
He had always wanted attention from his
father, but he got as much as the other
children
The new wife and new children further
starved him of his father's attention
He wanted the attention badly
He wanted people to respect him
But nobody did!
Whenever he watched Nollywood movies
He saw his likes portrayed as waifs, clowns,
demons, beggars, evil masterminds and so
on
He so much wanted to be different, to be rich
But he didn't know how to accomplish his
dreams
When he was seventeen years old, his father
employed a security guard with a strong
reputation for demonic powers
There was a series of break-ins in their estate
and even though armed robbers were always
weary of coming to houses full of boys,
his father was concerned enough to hire
such a man!
The man took a strong interest in him
They would sit down by the gate in the
evenings and the man would tell him tales
of his exploits as a hunter in his youth
The man was born at a settlement very close
to a game reserve in the Oke-Ogun area
of Oyo State
It was from the man that he got his first real
taste of power
There was a young lady, a food vendor, who
comes every afternoon to sell food to the
old man
The old man asked him one afternoon if he
would like to have sex with the lady
He said yes!
The old man gave him a ring
"Use it to tap her shoulder when she
comes around tomorrow"
He did it
The lady followed him right into the old
man's security post by the gate
She assisted him to do the deed
When he was done, the lady walked out
carried her wares as if nothing had been
done and left
WOW!
He had done something he knew many of his
brothers had never done
It made him feel very proud and superior
Even though he couldn't tell anybody
He took care of the old man joyfully after then
He gave him food, clothes, money
Anything he could steal!
In return, he got access to the ring to do
whatever he wanted with any lady of his liking!
His brothers started gaining admission into
higher institutions
He didn't know what he would do with his
life
His father encouraged him to learn a skill
promising to make funds available to set
him up in business
The offer was good but he felt it would put
him at a disadvantage
His brothers would inevitably become successful
they would travel abroad and make a name
for themselves
No matter how much his Father gave him
he felt it would never be enough
His father was supposed to place him on a
generous salary for life
Was it his fault that he was born with all
the disadvantages?
But he didn't have the guts to tell his Father
this
Yet, he refused to commit to acquiring a skill
This made his father unhappy
Some years later his father called him in for
a meeting, His Father said "I will not live forever!
This is the time to do something with your life! '
Your brothers are all graduating, three have gone
abroad for their masters!
All you do is sit at home, walk around the estate
and fool with girls
You are in your twenties now!
Look at my head, I am grey all over
Do something with your life!"
That was when he told his Father he wanted
to be placed on salary for life
He said it with tears and a lot of emotion
His brothers would make millions from their
education
They would still inherit properties from their father
It wasn't his fault that he was the way he was
He wanted a salary for life and a house
he could live in and call his own!
His Father was furious!
"It is my property that you want to live off?
It is your inheritance that you want to live off?
Were you not well taken care of?
Did I not put you in the most expensive school?
Did I deny you any opportunity?
Was there a year I did not take you to Europe
with the other children?
Did I not offer you the chance to stay abroad?
What did you say?
You said I will forget you there and I brought
you back home
I told you to learn a skill, pick up an
apprenticeship role with any vocation of
your own choice
I advised you to learn Aluminium fabrication,
cobbling, tailoring, furniture building,
all sorts you refused!
You sat at home and rot!
And now you are talking about my properties
You felt you are entitled to my bricks an mortar
Just because you had dyslexia, slanted eyes
and your legs are not of the same length
Since when was that a disadvantage?
Since when was that a "salary for life"
paying job?
I am legally married!
By law, all that I have belong to my wife
Did you also consider that you have stepbrothers
and sisters who I am still sponsoring through
school?
How do you expect them to cope if I die today
based on your "Share your inheritance" mindset!
You are a lazy, mean and selfish bastard!
But even if I am going to make a will and share
properties
I wouldn't use your condition as a yardstick
to give you more or less than your brothers
I have seen people with much less make
something of their lives
You have all the opportunity to become
anything you want
You refused to take advantage of my offers
How would you manage resources when they
are committed into your hands right now?
It is either you apply yourself and stand on
your feet or wait for inheritance and get
nothing!"
His father's words stung him badly
When he got to his room, he became restless
His father had said he would get nothing!
Nothing!
Because he married another wife?
His father said the other wife would get
everything!
Everything!
One Saturday morning, his nine-year-old
stepbrother (One of the children of his
step-mother) suddenly went missing
He was at home and so was the security guard
when it happened
The family searched everywhere
His father got the police involved!
They searched everywhere!
It was as if the poor boy just vanished
into thin air
The mother of the missing boy reached out
to the brother in Jeans and T-shirt
"Can the Holy Spirit bring my son
back home?" she asked
"Is there anything too hard for God to
do?" The Brother in Jeans and T-shirt replied
They prayed together and decreed the
return of the young boy within twenty-
four hours
Later that evening, there was a sudden
noise at the security post
The security man was screaming like a
mad man
His father and some members of the
family went to see what was going on
They found them there
The security man's daughter and Slanted-eyes
They were having sex and got stuck together
(Penis Captivus)
The security man said "My daughter
came to visit me from her school this
afternoon! Before she went to school
I made her undergo a family ritual in which
any man that slept with her would get stuck
in her!
I did this to prevent her from sleeping
around
I didn't know this unfortunate
boy would use a "fetish" ring to sleep
with her"
"Release us now" Slanted-eyes shouted
The security man said he didn't have
the antidote for the charm at hand
Slanty eyes got angry "If you don't
release us right now, I will tell everybody
what you did with the missing boy"
Everybody heard
The mother of the missing boy grabbed
the security man and sunk her teeth into
his shoulder
Neighbours also got involved
After some slaps and blows, he said
"Slanted-eyes was very hurt by his father's
revelation about his inheritance
He decided he wanted to do money ritual
They lured the poor boy to the security post
very early in the morning and drugged him
Then they smuggled the boy over the fence
and carried him to the security man's
house before he was discovered missing
They plan to use the cover of the night to
move him to a ritualist who had promised
he would do the money ritual for them!
He took them to his house
They found the boy
His hands and legs were tied,
his mouth was gagged,
he was barely breathing, but He was alive!
PS: The kidnapped boy recovered fully and
was restored to his parents
Slanty eyes and the Security Man's daughters
were taken to a village for a ritual before
they were able to disentangle
Slanted-eyes and Security man continued
their friendship in jail
This event happened on May 25, 2018
at Bodija Estate, Ibadan, Oyo State
Beware of people with an entitlement
mentality
The entitlement mentality is like being
shadowed by a wild gorrilla
It does not allow you to love others,
be genuinely happy for them and
celebrate with them sincerely
It is selfish and breeds evil willingly
There is nothing you can do for a
a person with this mentality that would
be considered good enough
For such, the fact that you have more
regardless of how you got it is enough
to trigger envy, malice and jealousy
They would rather put their energy into
bitterness, anger and evil
Than making something of their lives!
If you are reading this and you believe
somebody other than you is the reason
you are poor, disadvantaged or stuck
You need to drop that mindset before
it puts you down!