Glass Slippers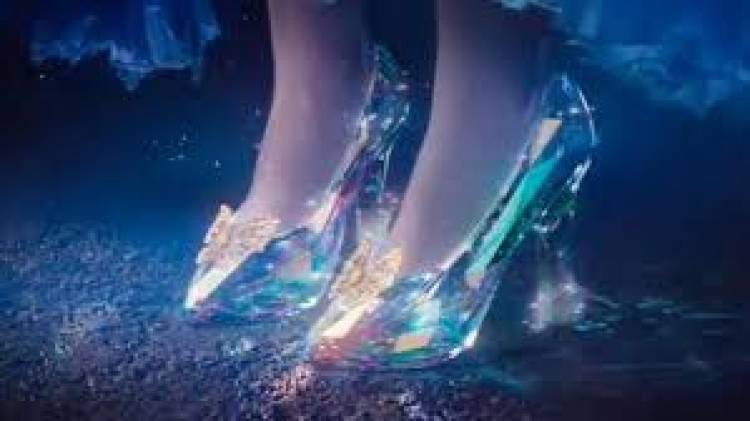 When she met him, it was like the sunflower
meeting the sun
She was eighteen and had only one desire
She wanted to have sex
It had always been her desire to lose her virginity
None of her friends were virgins
She wanted to lose it desperately
But the guy she was "dating" at the time was
twenty-four years old
He had a lot of girlfriends
He was very poor but she didn't know that
at the time
He was the most eligible bachelor of their
"sorry" community
All the girls wanted to sleep with him
All the girls were sleeping with him
And she eagerly joined the queue waiting
for her day
He was not doing anything tangible with his life
He finished secondary school and saved some
money to build a snooker board
That was his job!
Managing a snooker board!
He also got a video game and charged a fee to
get people playing
He basically called it a games center
He had games like table tennis, snooker, video games
Ludo, WHOT card, playing cards, and checkers
His mother sold local gin and cigarettes to
his customers
The business was located right outside his parent's
rented apartment
Many secondary school students would sneak out
of school and converge at his gaming center
That was who he was
That was what he did!
She was a student at the time, going through
the motions
called secondary school
She knew her parents wouldn't be able to afford to
send her to the university
Her best bet was to learn hairdressing and get a shop
Of all the young men in that category to love
and relate with
He was the obvious choice!
It didn't matter that other girls were also
sleeping with him
The options were far worse
At least he had shown some entrepreneurial drive
The other young guys in his community
that are of his
age bracket were all loafers and panhandlers
They smoked marijuana, drank alcohol and
hung around his
game center like evil spirits!
They also sleep with the available girls
But he was the prize!
The one to sleep with and brag about!
Their community was a slum of sorts
It was located right in the middle of nowhere
Most of the houses were hurriedly built
and uncompleted
The community was located on the outskirt
of the state
Somewhere electricity, pipe-borne water and
government's
presence was totally missing
They were poor and all they saw was all they saw
She would often hang around his "games center"
He sometimes watched pornographic movies
with his friends
in the mornings
Between 10 AM and 12 noon
He had younger sisters who were her friends
She could go to his house at any time pretending
she was there to see his younger ones
Sometimes she watched the pornography with them
He would tease her by saying "Grow some more"
My plate is a bit full for now
As far as she was concerned, it was all a matter of time
until he gets her time and fulfilled her dream
She was on her way to his house a week before
she clocked 18 when she saw movement at a
newly completed building close to the expressway
She didn't pay much attention to it
On her way back home in the evening
He came out of the building and walked directly
towards her
He greeted her and said "I am so and so, we just
moved into this house and I am a bit bored! I just
felt like talking to someone! I don't mean to be rude!"
Oh God!
She liked him!
It was like discovering something new and fresh
He looked sophisticated, spoke politely and
seemed very different
She just nodded!
He told her he was an undergraduate in a University
located about 30 minutes drive from their community
He was twenty years old!
Just talking to him, that very first day changed her life!
When she got home, she daydreamed about being in
the university with him but not as a student,
as his girlfriend!
She was the tailor dating the undergraduate!
It felt like a brand new reality was opened to her
She saw possibilities and her imagination came alive
The next day, they met at his gate
She wore her best cloth!
She wanted to impress him!
They started speaking English, trying to match him
He was the first undergraduate she ever met
They became fast friends
His parents were Christians and he was a
Christian too
He taught her many things and she was very
willing to learn
He started coming to their house some
weeks later
He was like a strange light
He told her about Jesus
They were "Christians" too but not like him
Everything about him was different
She suddenly wanted more out of life
She suddenly hungered for more
She accepted "his" Jesus and started
attending his church
His parents fell in love with her and offered
to support her dreams of getting a higher
education
They paid for her JAMB and WAEC
(She had failed the first attempt woefully)
He coached her! Simply and seriously!
They fought sometimes when he was too
hard on her
They laughed too when she outsmarted him
She was witty and he was deep!
She passed in flying colours
His parents paid her school fees, willingly
and without any condition
Whenever she was on holiday she would go to
their house to help out his mother
She ran errands for his mother, plaited her
hair, gisted with her and helped her tend to her
shop whenever she had places to go
He didn't ask her out and he didn't behave
inappropriately towards her
He also didn't exactly act like a brother
They had the right distance to become lovers
And the right distance to remain, friends,
But there was nothing she wanted more
than to marry him!
His entrance into her life altered the course
of her destiny
He made her more than she could ever dare to
dream to become in life
And yet...
She was in 200 level when he graduated
He traveled abroad immediately after for
his Master's Degree
When she got to the final year, he returned
and went for his NYSC
She had kept herself for him, wouldn't look at
anyone else
She prayed every day
"Father, I love him!
He brought your light into my world
through him, I got to know you and the Holy Spirit
I have an education and my younger
ones too are breaking the glass ceiling and
becoming more than drug addicts and
moochers!
Please let him marry me!"
He was always kind to her, friendly and cautious
But he didn't make the move!
When she was going off for NYSC his mother
called her aside and said "I will keep an eye on him
for this one year you will be away!
When you return, make sure the stray poor girl
doesn't come back with you!
That's what he is still seeing!
If you come back with your glass slippers,
he will do the needful!"
She knelt and thanked his mother
His mother had been a glorious source of joy and
encouragement
Treating her like the daughter she never had!
Even her (own) mother loved his mother
His mother had the kind of heart that defines
a Christian!"
She went off to Kwara state
He didn't call her at all, not even once
She didn't call him too
She used to want to talk to him because
she was afraid he would forget her
But his mother had made her a promise!
She needed to keep her end of that bargain!
Distance makes the heart grow fonder!
But her heart, prayer, and mind was on him alone
Other guys came along but she couldn't date them
She told herself she wouldn't have met any of
them if not for her!
Service year sped by!
His Birthday was November 14th!
He was clocking 27
She had saved up most of her allowance
She bought the best gown she could afford
Decent, curvy and very feminine
She dressed in stardom
He was having a little party
She arrived in style!
As soon as he saw her, he beamed!
He kept her at his side throughout the party
Once the guests were gone, he turned to her
He said "Oh my God!
I could hardly believe my eyes!"
She wanted to say something smart but...
"I love you" Was what blurted out of her mouth
She really didn't mean to say it
She was shocked at herself
She lowered her gaze and held her breath
He lifted her face, looked into her eyes and
said "I love you more"
It was what she had ever wanted
What she remained a virgin for
Her dream for life and destiny
She wanted him, not his sympathy or
his friendship
She wanted all of him
He said: I have always loved you but when
my parents
got involved in your education and other
matters,
I had to take a step back!
I was actually praying for directions regarding
my marital destiny!
Until I saw you, I didn't imagine this is how
God would answer my prayers!
Ps: They got married in 2013
The event happened in Ibadan, Oyo State
The community is located along the
Lagos-Ibadan Expressway
The community has taken an urban shape
When he met her, the community was just
opening-up
She said it was his mother's counsel that
got her thinking
"I've got to reinvent myself or he wouldn't
see me"
She asked the Holy Spirit what to wear
He said "I have always liked her, even had it
in mind to ask her out at a point but I didn't
want a long-distance relationship
At a point, I felt it would make her
uncomfortable coming to our house!
If she said "No" it would ruin the relationship
between the two families
and if she said "yes" I wouldn't be sure it
was for love or because of the role my parents
were playing in her life!
Everything was just mixed up!
But that night, I knew she was my wife
the moment I saw her!
It became crystal clear!