Tempestuous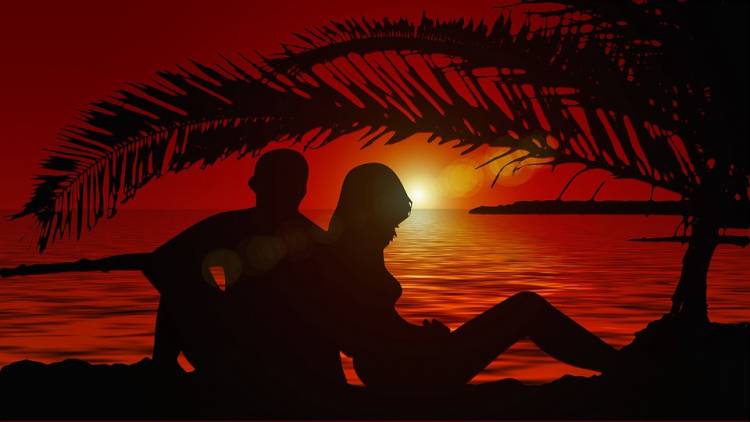 She changed the topic suddenly
It was like a sucker punch
He didn't see it coming
She said "Where are we heading to"
The question was totally off his radar
Like asking a colour blind person what
roses look like
Of course, he had thought about them and
where their relationship was heading
He loved her with the whole of his heart
But her timing was crazy
It was as if she wanted him to choke on
his answer
so that she can call the relationship off
He choked!
He said "Heading to? I don't understand the
question"
She flared up
"You guys are senseless, heartless beings
So you have been wasting my time
We had been together for six years!
Six years!!! and you have the guts to
pretend you don't understand what
I am talking about?
Park the car and drop me, Park this car!"
She screamed
It was at that point that it clicked
He realised she had set a trap for him
and he had walked right into it
He parked the car
He had gone to pick her up at the office
He was driving her home
She opened her purse and dumped everything
he had ever bought for her! Everything!
Earrings, hand bracelets, books, necklaces,
perfumes, even cash
She kept a very exhaustive list of everything
he had ever given her as a gift
The list included time, venue, occasion
and date
She Missed nothing!
It was premeditated cold and wickedly timed!
She had planned the breakup and executed it
coldly to perfection
He couldn't believe his eyes
What sort of a snake does that?
It was as if all she did for the three years of
their relationship was to gather memorabilia
that she would use to make a statement when she
eventually walked out on him
"I owe you nothing, you hear me, I owe you
nothing!" She screamed
He expected her to storm out of the car
Walk away as usual
She had always had a fiery temper
Whenever she was angry, she was like the
raging sea!
It was the one fault she had as a person
Other than the temper, she was an angel
He met her at a critical time in his life
his parents had died in a motor accident
when he was in the University
He was emotionally shattered and financially
handicapped
That was when she approached him
They had been classmates but rarely talk
to each other
She said she noticed that he was not paying
attention in class
He was always looking withdrawn and staring
into space
He had slipped into depression and was
starting to experience suicidal thoughts
Her intervention practically saved his life
She pulled him out from under the water
She brought him to the light
He was able to breathe again
She supported him until they graduated and
beyond
She got a job immediately after their service
year and sponsored his Master's Degree when
she noticed that idleness and worry were
creeping back into his life
She was his sunshine!
His heart desire!
His best friend!
His soulmate!
She introduced him to Jesus
Took him to her church and encouraged him
to know the Lord
He grew in the Lord to her delight
But it felt as if they were not reading
the same Bible or walking with the same
Holy Spirit!
He felt his life change in a very measurable and
obvious way
He healed emotionally to the point where
depression became a thing of the past
He just couldn't slip into it again
Some of his natural inclinations also changed
He lost the ability to get angry, keep malice,
be spiteful and unforgiving
Everybody around him knew he encountered
the Holy Spirit
Her church pastor was so dazed by his growth
that he offered to make him a parish pastor
at another church
He was the one that said NO!
He had gotten to know the Holy Spirit so
intimately that he knew what the Holy Spirit
wanted him to do per season
But she remained the same
Religious, nice, friendly and loving until
something happened to provoke her
Then she will become Incredible Hulk
All temper and tantrums
She could burn down a whole city in her temper
She simply couldn't be reasoned with!
She turned to him in the car and said
"I want all the stuff I gave you! Everything!
I want it now!"
Before he could say a word, she had locked his
shirt
"You ingrate, stone-hearted, senseless fool
I regret the day I met you!
I regret all the good things I did for you
I wish I had left you to die!
You refused to propose to me after all these years
You were just playing me, right?
Like ping-pong!
You have turned me into a game!
Everyone who started a relationship when we
started had done something tangible with it!
Those who were serious about marriage
had gotten married
Those who wanted to fool around had done
so and moved on
But you have kept yourself in my life as
a permanent fixture of doom
You refused to do right by me!
You were just using me to advance in life!
No wonder I offered to give you some money
last week and you said NO!
You said NO, that I should save the money!
That was when I saw the flag!
You had never said NO to my financial support
before
You were planning to break up with me right?
You were waiting for the right time to walk
away and leave me behind!
Well, I beat you to it!
I am the one walking away, you unfortunate fellow
I dump you today!
You might have used me but I am the one
dumping you!"
She released his shirt, spat on his face and
stormed out of the car!
He watched her go
He wondered how her mind worked!
He had told her to keep the money she was
offering him because he felt it would make
her feel proud of him!
He was finally on his feet financially
He was finally able to say "I can handle it"
He knew she would later calm down and call him
She would later say sorry
But they had danced around her temper
long enough
Her temper was the main reason he had not
proposed to her
They had talked about it over and over
They had prayed about it
They had seen elders and pastors in their
church for counselling
He was afraid she would kill him one day
He had a good cause to fear
Whenever she went off the bend, she did
so headfirst
She said the things ought not to say
Most time she would make up lies and
exaggerate things to justify her behaviour
Sometimes she would go violent
Twice she had slapped him while he
was driving, not minding the fact that
he was on the highway and they could have
a crash!
Everything told him to run!
But he had no one else!
He always told himself he wouldn't be alive
if not for her!
When he got home that day he was distraught
He thought she would call to apologize
She didn't!
One week, one month, two months!
She blocked him on all the social media
platforms
She even changed church so that they would
not meet
He still loved her but he got the message
She had moved on!
He started praying for divine guidance
He wanted to get married
He wanted to pick the right one this time
He prayed and waited
He heard nothing!
He reached out to the Brother in Jeans and
T-shirt
"Why isn't the Holy Spirit talking to me?"
He asked
They talked at length
the brother in jeans and T-shirt got her
phone number from him
He said "I want to help her, she is my
sister"
I am not doing this so that you can marry her
I am doing this for her
I want to help her get rid of that temper
The Brother in Jeans and t-shirt called her
They met at his office
He told her about her relationship
They talked
She admitted that she wanted to be rid of
the temper
She had tried everything possible
She had tried bridling her tongue, breathing
techniques, reading her Bible daily, praying,
walking away from volatile atmospheres but
nothing worked!
She said she knew he didn't propose because
of her temper
Isn't love supposed to tolerate all things?
Why couldn't he overlook her weakness and
marry her if he really truly loved her!
She said she knew her outburst would scare
him from proposing as he had always claimed
It was all a delay tactics
"Someone else would love me as I am"
The Brother in Jeans and T-shirt told her
the mindset she was exhibiting was selfish!
It is unfair to identify a weakness and
claim someone who loves you should marry
you in spite of it!
Why don't you just get rid of the temper?
It makes you unpredictable and no reasonable
man or woman should willingly marry a cobra!
You are a Christian and therefore you have
the power to change every unpleasant
situation through the Holy Spirit!
Are you willing to let go of this negative
emotion?"
She said Yes!
They prayed!
He made her confess who she had become in
Christ, then he laid hands on her!
She started crying!
At first, he thought it was because she felt
humiliated that her weakness had been so
openly and brazenly condemned!
He didn't want her to take the meeting the
wrong way and make an issue of the help he
was offering!
He removed his hand from her head and
called her name
He wanted to ask her why she was crying!
As soon as he called her name, she took off!
With the speed of lightning, she ran!
She ran in a circle within the church premises!
After about twenty minutes of running, she
crumbled on her knees and wept!
After some time, she rose to her feet!
The Holy Spirit has done His work!
She said she felt light and oddly joyful!
He laid his hands on her head again
and blessed her!
PS: They got married six months later
She went to his house and apologised
after her meeting with the Brother in Jeans
and T-shirt
He accepted her back and hoped for the best
He was not put to shame!
They got married in June 2016
They relocated to Ireland six months later
Their marriage is blessed with a daughter!
Have you met nasty people who spoke
in tongues before?
I have!
They continue to live that way because
they assumed they cannot do better!
Or because they don't want to do better!
Born Again, tongue talking, Holy Ghost filled
believers who slept around and stole and
did all sorts even though they are tabernacles
of the Holy Spirit are a sorry sight!
The tongues they speak is "mental", their
confession is also mental!
They have not encountered the Holy Spirit
in the real sense of the word!
Apostle Paul said to Timothy and to us in
1 Timothy 4: "14 Neglect not the gift that
is in thee, which was given thee by prophecy,
with the laying on of the hands of the presbytery.
15 Meditate upon these things; give thyself
wholly to them; that thy profiting may
appear to all.
16 Take heed unto thyself, and unto the doctrine;
continue in them: for in doing this thou shalt
both save thyself, and them that hear thee.
If after you have accepted Christ, your
profiting in Christ has refused to appear to all!
If the fruits of the flesh are still evident in
your life and ways
There are still strongholds in your heart that
you must give the Holy Spirit and the Word
access to!
His presence changes us effortlessly!
It is time to be Christ to your world.