THE INSTRUCTION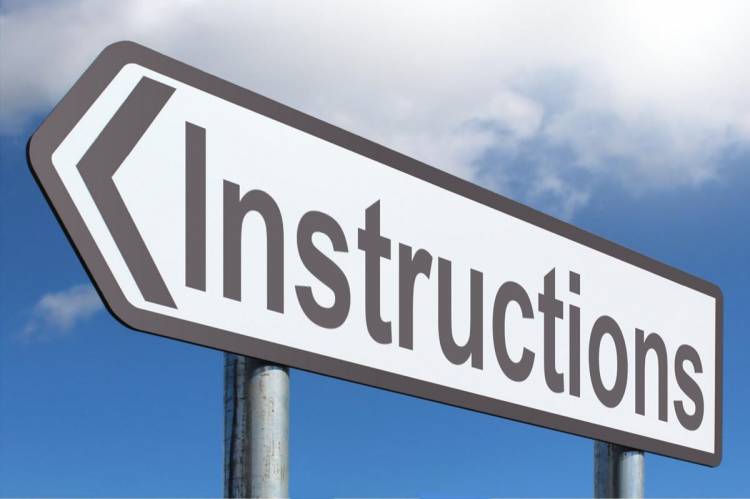 I was desperate!
I needed help FAST!
I had prayed.
I had fasted.
I had confessed.
I had made declarations.
No dice!
I was getting to my wits' end.
I felt the hands of my detractors closing in…
I got back home that Friday evening tired.
I was drained.
I sat on the chair, exasperated.
I was alone in the house.
I sat there till around 8pm: I didn't even switch on the lights.
Then I spoke up:
"God, WHAT DO I HAVE TO DO FOR YOU TO ACT?
If it is prayer, I KNOW I have prayed.
If it is fasting, I KNOW I have fasted.
If it is confession or declarations, I have done all these!
WHY DON'T I HAVE ANSWERS?
I will not do anything again until you speak to me!"
I sat there for another hour…
Then THE INSTRUCTION came:
"Forgive those who you are beefing.
Ask those who are beefing you for forgiveness."
Woah!
Just that?
No problem!
I was too drained and tired to be ashamed to obey THE INSTRUCTION.
I immediately wrote down names of those in these categories.
I called them up one after the other.
I did what I had to.
I checked the time: 10pm.
I felt LIGHT!
I KNEW in my Knower something had shifted!
I slept soundly that night, something I had not done in 2 months…
I woke up at 6am: my phone was ringing.
I picked.
"Good morning! Is this Architect Haruna Daniels?"
And God came through for me...
He had a medical problem.
He had sought help in several places.
He had met with the best consultants in the world, none could help.
He had done all he knew to do to solve his problem.
But the condition persisted, defying all solutions.
Then he got an information that could lead to the solution he needed:
"There is a Prophet in Samaria, he can help you out".
He quickly hopped on the plane to Samaria.
He got to the Prophet's house.
He met a servant at the gate.
And THE INSTRUCTION came:
"Go bathe in River Jordan seven times and your problem is solved".
It made no sense.
THE INSTRUCTION never does.
The irony is, It is always simple.
But there is something in man that resists it.
Naaman got angry.
He felt the solution was degrading.
His problem was not the medical condition.
It was PRIDE.
The solution was there before him.
But PRIDE wouldn't let him see it.
Until someone talked sense into his head…
They were struggling.
It was a life and death issue.
If they don't get help soon, they WILL die.
It was that bad.
The storm was raging.
The waves were roaring.
The ship was tossed to and fro, threatening to break in pieces.
They tossed all the cargo into the sea to lighten the ship.
It made no difference.
They wailed.
They screamed.
They prayed.
Nothing happened.
Then THE INSTRUCTION came:
"Toss me into the sea and all your problems will be over."
It made no sense.
It never does.
THE INSTRUCTION.
The irony is, It is always simple.
But there is something in man that resists it.
Throw you into the sea?
Why?
How?
No!!!
Let's pray more!
Let's row more!
Let's throw more cargo overboard!
Let's…. do everything else BUT follow THE INSTRUCTION!
But until they followed THE INSTRUCTION, they had no respite.
Jonah was eventually tossed overboard.
There was a problem:
The wine had run out.
This will be a big embarrassment if the news gets out!
The Bride was upset.
The Groom had no idea what to do.
Both sets of parents brought out their phones to call for help.
Mary overheard the phone conversation.
She beckoned unto the caterer.
"I understand you have run out of wine, ma'am."
"Shhhhh! Please don't let the info out! We're trying to get a fresh supply before people notice", the caterer replied.
Mary smiled…
"Don't worry about that, ma'am. There's a better, faster and cheaper alternative…"
Mary brought her to Jesus and said:
"Whatever He tells you to do, DO IT!"
He gave THE INSTRUCTION.
It made no sense.
It never does.
But they obeyed.
And God came through for them.
FREE OF CHARGE.
THE INSTRUCTION COSTS NOTHING TO FOLLOW, folks.
Any other option WILL cost you.
Has He given you THE INSTRUCTION?
Are you being pig--headed like Naaman?
Does THE INSTRUCTION make no sense to you like those Sailors?
It doesn't matter; if you don't obey, if you don't follow THE INSTRUCTION, you will not leave the position you are.
You complain your mates seem to be moving on in life.
You complain you seem to be holding the shorter end of the stick.
The truth is, you shouldn't compare yourself with them: you operate under a different Constitution.
Your Constitution is THE INSTRUCTION.
Your growth, your progress, your break is wholly dependent on your determination to obey THE INSTRUCTION; no matter how stupid, degrading or harsh it sounds.
"Hear ye children, THE INSTUCTION of a Father…"
Proverbs 4:1
Shalom,
Haruna Daniels