A Man Called L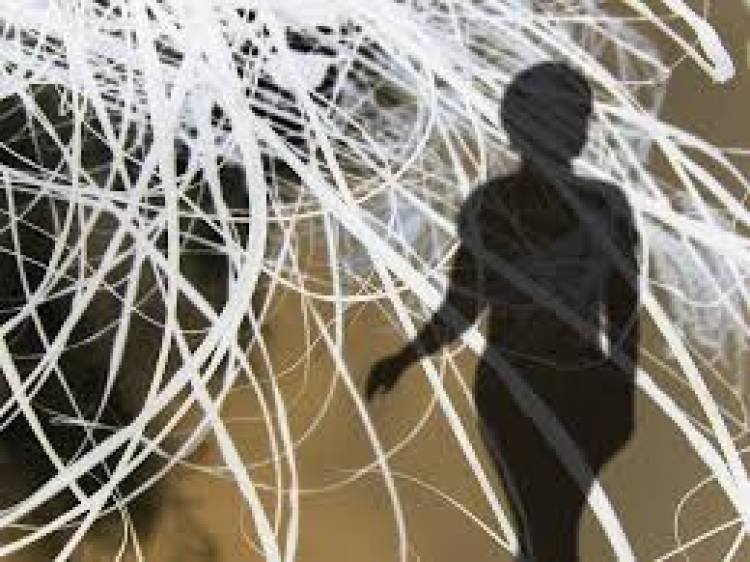 Young lady fresh out of
boarding school waiting for admission, my lovely dad
thought I should learn
some computer skills, and
signed me up for a computer
school.
I loved it, I didn't even go
out for breaks.
There was this computer wizard,
at least that's how I saw him.
It was obvious though that
other guys and ladies saw him
as a genius
He was handsome and rich
A well-dressed dark prince.
You could hear it in the way
they all called out to him for
help
As for me I would rather die
than ask for his help.
I guess that was why he
wanted me at all cost.
His name was L
He started out by agreeing
to help another guy deliver a
love letter to me
A letter which he hijacked and
never gave to me, he made
friends with my only friend and
even gave the guy some money
to convince me to date him.
The next thing I saw, this guy
was physically losing weight
from worrying and chasing
after me
I was super young, I didn't
even understand what a man
was or what a relationship is
I just agreed.
I realized it meant he would
buy me cool stuff for lunch
and call me all night.
Things were going on smoothly,
till my mum caught me making
night calls
The computer school was
stopped
My dad went to the school to
look for him and give him some
tern warning to stay away from
me
My phone was seized, it was
a mess.
It didn't last long though,
I was admitted into the
University a few months later.
On my matriculation day, he got
me a hand made card as big as
my pillow, it had everything you
can imagine including a teddy
bear, he got me enough
provisions to feed my friend and
I for a whole semester.
He also came with swag, he
had his friend who held the
goods, he had blings
everywhere, coolest sneakers
and dark shades, then he also
had this mini mp3 thing that
had video.
My God, ALL EYES were on him,
I was proud and embarrassed at
the same time.
A friend of mine actually stole
his number from my phone
and offered to be a better
girlfriend.
Then came the issue of sex
A cousin of mine once tried
to sexually abuse me and my
mum beat me so bad like I was
the abuser, so when i heard
about virginity, I thought i had already lost mine if I had any,
if not my mum wouldn't have
beat me up like that.
He started talking about sex
and it was mostly because of
peer pressure
I just knew I didnt want to do it
it didnt feel right, but after so
many tries, and talks of if I
was really a virgin I won't be
afraid to prove it and a silly
friend of mine telling me that
sex is the only way to prove
love, I gave in and found out
I was a virgin.
By this time, I was already a friend/daughter of his family,
cooked my first stew at his
mum's kitchen, using almost
half gallon of her oil and all
the pepper in the world.
We started having our downs
I felt he just started wanting
only sex and didnt really care
about my feelings anymore.
We were falling apart and he
would be upset and not call
for a while, and that was when
I had started loving him.
I got sick, kept on treating
malaria and throwing up at
night, then a wise lady said
to me, "Go and do a pregnancy
test"
My dear readers, this 100 level 16 years old child was pregnant.
My mum is not just an African
parent, she is a wrestler!
Pregnancy was as good as a
death sentence.
Since the young man wasn't in
good terms with me, there was
no point adding pregnancy to
the situation.
I called my dad, told him I had
an urgent school due to pay
I went home collected the
money and the next day
followed some dear friends
to an abortion clinic, signed a
"We are not responsible for
your death letter, went to the
room and they asked if i
needed an injection, I said no,
they did that whole thing and
I didnt even feel any pain with
my senses fully awake
because whatever was not
this choice was going to be
way worse.
The young man finally called,
as I recall, I told him what had
gone down,(I didn't mention the
abortion because I didn't want
him to start relating with me
out of guilt or any sense of
obligation)
I just told him I had been ill
He was a bit upset
but wanted to make-up for
not being there
The hunt for me began again
He started calling frequently
His mother too called often
I had to change my line,
and I warned all my friends
to not bring him close to me,
cause he would just come to campus and be asking around
for me in a full female hostel.
Then in the midst of this,
Our school went on strike
Another young man R came
around as a friend and was supposed to be succor and
was succor,
His wasa story for another generation but I followed him,
fell in love and finally closed
the chapter on L.
L reached out on Facebook and
I didn't reply for 3 years, he
would apologize, beg, ask for forgiveness and ask what he
did wrong.
After 10 years of having Mr R
in my life, I saw his truth!
Though as at when i met him
we were young and growing
He grew and I grew
And somehow we grew apart
It was painful
life left me in shambles and
I gathered the pieces of a
broken heart for months.
Then on this fateful day L
reached out randomly again
as he always does, on my
birthdays, Christmas, New Year,
anything.
So I decided to talk to him,
apparently, I never told
him about the pregnancy, all
he knew was that I was the
love of his life, first love,
first woman he had been with,
his twinny babe, and then he
woke up one day and I wouldn't
talk to him or see him, I won't
pick calls, I changed lines and
just moved on.
He had not been able to
understand what happened
but had loved me and kept
reaching out for over 10 years,
still strongly believing i am his soulmate and wife to be even
after hearing for the first time
in 10 years that he had a child
that I killed without his
knowledge.
He actually, composed some
songs to honor me in my
absence, one is named after
a precious metal.
He wanted to be with me again
He felt we belonged together
Here I am 12 years after
meeting him, I am single and
tired and I still said No to his
proposal.
I can't even say this isn't wickedness, but it's me,
so I will say life happens!
It is only in God that one has assurance.
I am not arrogant
I am not a bad woman,
I am just tired of making
wrong decisions.

PS: I will be still and know
you are God!
Sometimes it is better to be
still and walk with his time
than to subject yourself to
pressure and go down the
wrong way
Movement is not always
progress
Be led!