Tawakalitu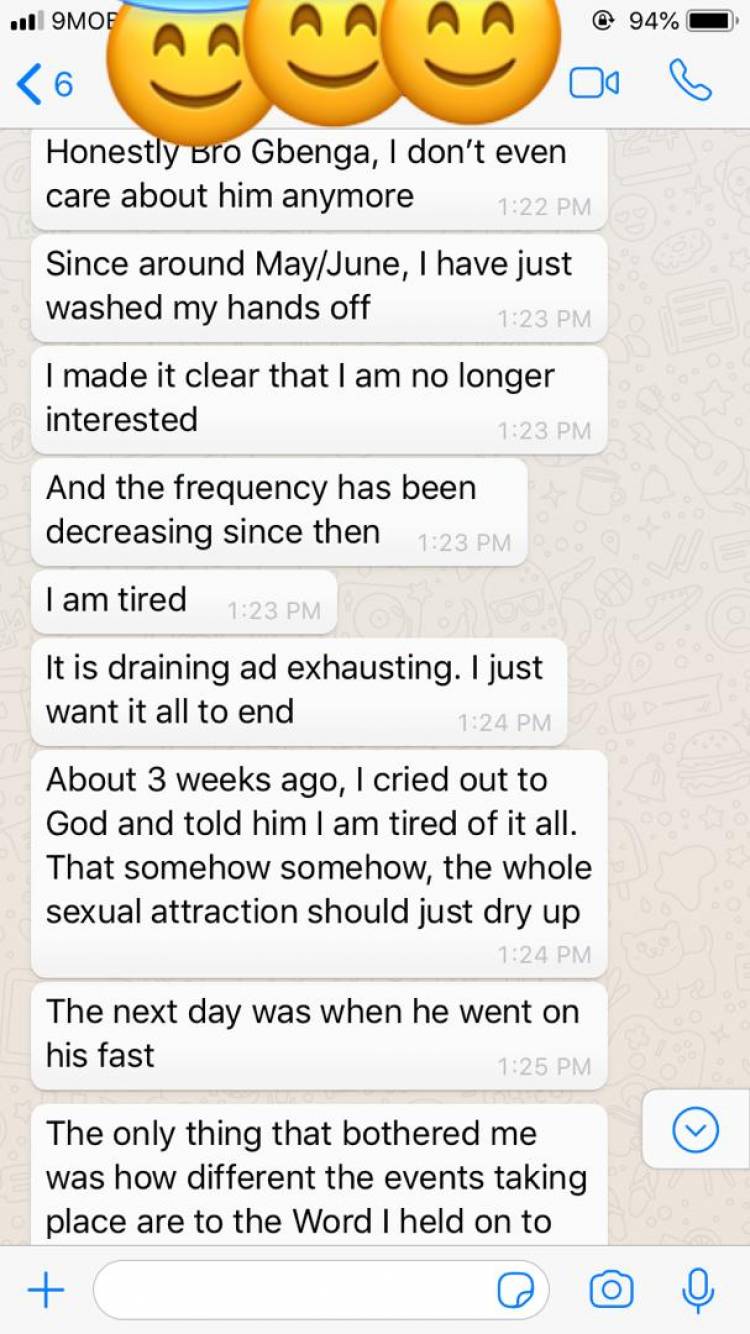 We migrated to Australia in 2011
My parents, my two brothers and I
We had no say in the matter
My Father got a multinational job and
the family had to be with him
My mother was especially scared leaving
my father alone would encourage him to
marry a second wife!
We were non-Christians and our religion
particularly allows men to marry more
than one wife as long as they can cater
for their family.
My mum had always been subtle about her
fears but they were real
I was thirteen years old when we relocated
I had always been good with mathematics
and other science subjects
I gained admission to the University to
study software engineering at the age of
sixteen
Life was good!
When I was in my final year, i started dropping
my resume all over
I needed a job
I didn't want to graduate and return home
expecting my parents to fend for me
I wanted to find my feet and stand
on it!
I made calls and sent out many emails
Eventually, I got a response from a firm
A headhunting firm
The firm sent me a mail stating
that they saw my CV and would like me to
come in for a chat
They would ensure I got a very juicy job
if I was willing to work with them for a fee
I didn't think I had anything to lose
I booked an appointment!
The company was located somewhere in
the heart of London
The owner was a forty-two-year-old man
with a beautiful wife and a two year
old son
He was an HR consultant with a stong link
to many of the top firms
I liked him and the family immediately
I could see myself being like him career-wise
in a few years
He liked me too and decided on the spot
to wave the commission I was to pay him
for helping me get a job!
We got to work immediately
He helped me rework my resume and had me
on the waiting list of many of the top
paying firms
His wife was a nurse and worked shifts
Sometimes she would be home when we
were working and at other times she
wouldn't be
I couldn't say this was how it started
A touch here
A wink there
A hand on the shoulder
A hand across the shoulder
I liked his company
He was respectful and self-conscious
But this was pure unbridled emotion
One day, his touch lingered
I saw the danger and tried to resist
But he was strong and the fire I was
drawn too close to burnt me badly!
He was my first ever lover
After that first day, I felt guilty
I blamed myself for being so stupid
I couldn't sincerely say I didn't sense
that it might happen
I couldn't also say that I didn't dress
up in the morning wondering if this
would be the day
But it is one thing to fantasize about
doing wrong
It is another thing entirely to do it!
The floodgates opened afterwards
It was very easy for his wife and child
to be shadows and sometimes inexistent
I slept with him all the time
We were careful at first but after
a year, we became careless
One day his wife arrived and met us
in an awkward position
I was sleeping on the couch and
he was working on the laptop with
the back of his head resting against
my navel
His wife overlooked it
But then again she caught us practically
pants down
She threw down the gauntlet
I couldn't even dare to return to their
house after that
I stayed at my parent's house
A week later, I got a job!
We kept on meeting at hotels and
other secret places
His wife, now suspicious discovered
our conversations and came to my
parents with the evidence!
My mother almost had a heart attack
She called my elder brother immediately
When my elder brother called me to
inform me about the development
I decided I don't have to go home
anymore!
I now have a job and I could afford an
apartment
So I moved!
There was no point going home to lie
or deny or own up to the truth
I am an adult!
To keep his wife at bay we devised a
way to keep communicating
We downloaded an app, a chat app
We also devised code words
in other words, we invented new ways
to continue doing our thing
My mother realised there was little
she could do
I believe she started praying earnestly
I started visiting my family on Sundays
My parents were careful not to mention
the issue
It would have just pissed me off
I don't want it to be talked about
I have no plan of marrying him
I have no plan of pulling down his family
What we had was between us
I didn't mind the bad name and all the
things his wife was saying about me
She had the right to do whatever she
wanted
But I will not sit down and be condemned
by my own family
It is my life!
One day I was checking his wife's
Twitter handle when I saw a link
to one of the stories
I kept clicking until I got to the
website
I started reading the stories on
gbengawemimo.com
WOW!
I was not a stranger to Christianity
My mother was a practising Christian
My Father was the staunch adherent
of another religion
But I have never experienced the kind of
divine relationship I read about on the
website
One night, after reading a particular
story that left me with goosebumps
all over my body
I gave my life to Christ and asked the
Holy Spirit to come into my life
I joined the GSWMI Intercession group
on WhatsApp and PSSBCNigeria
He was still coming over
Even though we had agreed by this
time that we will no longer be
I lacked the will to tell him it was over
So I told the Holy Spirit about it
one evening as we pray
After the prayers, I heard the Holy
Spirit say to me "It is done"
And somehow, the whole sexual
attraction thing just dried up for me!
Then the next day, he came
He said something happened to him
and he wanted to fast and pray for
forgiveness of sins
I felt this was very good
Then he reached for me
He wanted to have sex with me
After all the talk of repentance and
turning a new leaf and seeking the
face of God
I didn't know where the courage
came from
I said NO!
He got angry, tried to grab me
I called him a rapist!
I reminded him of how it all started
How he took advantage of me
How I meekly accepted and danced
to the tune of his version of events!
Suddenly, he went violent!
He accused me of telling people he
raped me
He accused me of spreading lies
about him
He accused me of disrespecting his
wife
He said all sorts
His words stung but Yes, they were
necessary for the coffin to close
on an affair that should never have been!
He said his bit and deleted the 007 app
we were using to communicate!
It was like burying a stinking corpse!
I felt so relieved!
The Holy Spirit pulled me out of a cesspool
I had wallowed in for two years
within a few days!
I was not only forgiven, but I was also loved
unconditionally and pulled out of a mess!
What a God!
Thank you, Jesus!
PS: This story delighted my soul
It proves the subtle impact the gospel
is having on many hearts all over the world!
It tells of a love I benefitted from
A fountain I drank from
A reality I walked in daily
The love of Jesus is total, absolute and
all-encompassing