Wild Oats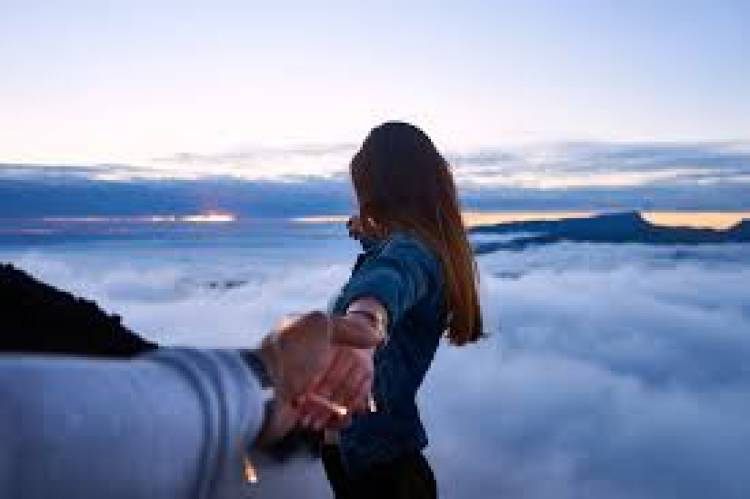 He had heard love speak several
times but not like that
No the way she made him feel
Daydreaming while driving was the
height of it
She made him lose his head
She made him lose his self-consciousness
She made him hum melodies and tunes
he knew he didn't really learn from
anywhere
His response to her shocked him
to the core
He had always prided himself as a level
headed, pragmatic and sensible But
sense had nothing to do with what he
felt for her
She was wild, like a boar, like a wild boar
She was the type of girl many mothers
would pray their son would never meet
in life
She was as beautiful as a peacock and
as deadly as a snake
He met her in church She was not a
regular
Their church had a weekly
interdenominational prayer meeting
that was held every Thursday morning
He attended that day because his mother
insisted and he sat right beside her
It was like sitting beside a time bomb
He couldn't explain it
The moment he noticed her, he got
excited all over
It was a strange reaction
All he felt like doing was grabbing her
by the hand and going somewhere to
be with her
It was wild and absolutely out of
character for him
She knew she had that reaction on him
She kept looking at him that way and
giggling At a point, he couldn't keep
quiet anymore
He turned around and asked for her name
She smiled and told him
Then he asked for her phone number
She smiled and gave it to him
When the service was over, she stood up
to leave
He quickly stood up and blocked her way
He said "I will like to get to know you"
She smiled and said "I will send you my
address, check me at home by two"
He quickly dialed the phone number
he gave her
Just to be sure It rang
She smiled
He removed himself from her path
She sashayed out of the pew line
provocatively
His heart was racing
All he could think about was sex
He was twenty-nine years old
He had been in a relationship for
seven years
A steady relationship that he was
hoping would lead to a marriage
He had been a born again Christian
since he clocked 16
He had walked the straight and narrow
until his final year in the university when
he succumbed to pressure and lost his
virginity
He was twenty-two years old then
He and his girlfriend did a lot of
kissing and cuddling around that
time due to the uncertainty they were
starring at as they wee graduating
Neither of them knew what life had in
stock for them and they wanted to
secure whatever they could of their
feelings for each other
Somehow hand-holding, led to kisses
and kisses led to touching each
other in sensitive places
They could have stopped but they
were both lost in the tidal wave of
that season
They kept pushing the limit until their
resolve wore out and they started
having sex
Somehow their relationship survived
the storm that usually broke many
relationships after graduation and
NYSC
They made it
He had met his babe's parents
unofficially and his babe had met his
parents too
His babe got a job at a leading mattress
manufacturing company as soon as
she finished her NYSC
He went for his masters and got employed
in a bank afterward
They were both ready to get married
as soon as five years after graduation
When they mentioned their intention
to their parents, they were told to wait
a few more years and save some more
His father especially was of the opinion
that young men and women must sow
their wild oats before settling down
so that they wouldn't be unsettled in
their marriages
It was the most ridiculous thing he had
ever heard His father (A nominal Christian)
has a Ph.D in philosophy and was a
natural weird thinker
His mother was of the opinion that if both
parties are happy and comfortable with it,
they should get married
His father had negotiated that he had to
wait until he was thirty
His father said, if he had not sown his
wild oats at 30, it is likely he wouldn't
sow them or perhaps he would sow
them later and give everybody a
headache due to the crisis that such
would cause in his marriage
He had counted his father's counsel
as foolishness, until that day
His wild oats were running riot all
over his body
He knew he would still do what he
was planning to do even if he was
married
His body was as tense as a snooker stick
He must putt that black ball into the middle
pocket He went to see her at 2 pm
She was living in the estate
About ten minutes away from his parents'
house
Most of the buildings in the estate were
mansions
Most of the mansions had dstaff quarters
at the back for the domestic staff and
sometimes for rent
She was living in one of those
She had a roommate who excused them a
few minutes after she let him into their room
The room was feminine
There was a mattress, two plastic chairs,
and a plastic table
There was a mirror on the wall and a
dressing table
She was dressed in a short skirt that got
his eyes all glued and his snooker stick
straight
She made an attempt to delay the
inevitable
She gave him her picture album and
tried some small talk
Eventually, she walked by him and
he grabbed her by the waist
There was no resistance
They danced until the dam broke and
the water gushed
When he got home that day he felt
both guilty and excited
His mother would have a fit if she knew
what he had been up to
His father would most likely tell his
mother it was inevitable
The puzzling thing was the fact that he
didn't want to marry or have anything
beyond the moment with the lady
He would never marry her even if
he was offered a million dollars to do so
It was only physical
It was just sex
He didn't even care if she was sleeping
with someone else
There was nothing emotional about it
It was simply something he had to get
out of his system
He promised himself it was over
He would never have anything to do
with the wild girl again
The girl didn't ask him for anything
Not even his name
He wasn't even sure who was using
who between the two of them
The sex was unbelievable
She knew so much and he was
willing to learn
By 6 pm that same day he drove to
her house
This time her roommate was in the
room with her own guy
He met her on her street, speaking
with an elderly man
When she saw him she smiled and
walked over to his car
She told him she was marketing a real
estate product to the elderly man
He found out she was a marketer for
a real estate company and she survived
off the commission paid in by customers
He took her to a hotel
She told him she was not in the mood
He begged her
She asked him to promise it would be
the last time
He promised
They got a room
He returned her home by 11 pm
It was the first time he had ever stayed
outside her parent's house till that time
without calling in to explain what was
going on
His parents were worried stiff by the
time he got home
He told them he took a lady out to dinner
His mother told him she had called
his fiance when they couldn't reach him
because his phone was switched off
He switched his phone off because
he didn't want to be disturbed when he
was with her
His father asked him who the lady was
He started stammering...
His father began to laugh like a jackal
He felt undone
He knew his fiance would come to
the house the next morning
He spent the better half of the night
cooking up a story to tell her
When it was morning he went for
a jog within the estate
He returned home by 9 am
He showered, dressed up and drove
to the wild lady's house
He knew he had promised her that
it was over but something in his
heart still longed for her
He parked his car close to the gate
of her house and waited
Then his phone rang
It was his fiance
He couldn't explain why he was angry
He just didn't like the fact that she
called
After about ten minutes of ignoring
her call
He went back home
He saw her standing by the gate of
his parent's house
She was in tears
He parked his car and walked up
to her
She said "I know you met another
girl and your head is in the cloud
right now. I just want you to
remember that you will meet several
ladies in your lifetime and some of
them will cause your blood to boil.
I will meet many men too, whom
I will fancy or find more alluring
than you
Feelings are fleeting but Love is a
choice.
I love you"
She hugged him and left
He went to his room for some time
He tried to call the wild girl twice
but her number was either engaged
or switched off and she didn't return
his call
The next day, he drove to his fiance's
house
He took her to dinner
Three weeks later, they initiated their
wedding plan
Two months later, they had their
introduction and engagement
ceremony
Six months later, they got married!
PS: Event happened in Magodo Estate
Lagos, 2016
Today is their fourth Wedding Anniversary
He shared the story with @gbengawemimo
overnight
He said he still wondered what happened
to him and why he fell so childishly for the
wild girl
He was grateful that he was able to escape
from the experience without ruining his
life or his relationship with his beautiful
wife
The marriage is blessed with two children
GSW's notes: There are words or
ideas that come alive when we allow
them in our reality
A believer does not have wild oats
to sow
All his or her fruits are miraculous
and meant for supernatural exploits
If you have an idea that you have to
sleep around with a lot of guys
or ladies before settling down so
that you don't cheat on your spouse,
you are being taught and influenced
by the devil who was a liar from the
beginning!
The day you became a believer,
everything about you became
divine and godly
You are far above every idea or
Philosophy, or ill that befalls
the sons of men.